tophatcat's hecking webbed site
hello, hello, world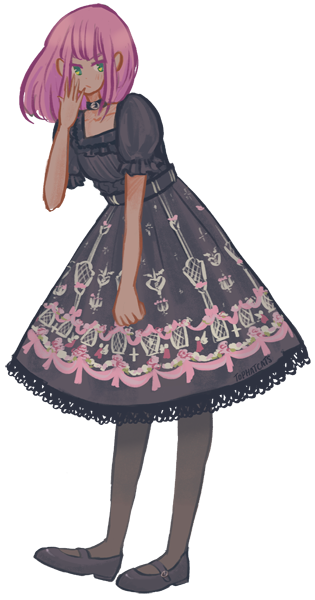 Welcome to this corner of the internet where I inflict my creativity upon the digital world. I organize my art, OCs, j-fashion blogging, and other odds and ends here. I wear casual lolita/egl, menhera, and an amalgamation of alternative fashion and weeb streetwear.
Pardon the dust!
Mobile ok. Best viewed on desktop.
---
updates
2023.03.27
I was out sick recently, but I'm back! ;v; 1 new EGL coord and 3 casual dark outfits.
2023.02.12
Ahoy! New goodies: select/cropped Visual Prison scans from the blu-ray collection of covers and booklet sketches (WIP). 1 new EGL coord, 1 new weeb outfit, and another 5 casual dark.
2023.01.22
Super late, but happy new year! I'm catching up on my outfit backlog as usual, but I have some other site updates in mind! 3 new EGL coords, 1 new weeb outfit, and 5 casual dark.
2022.12.19
December outfit dump! I'm officially away on holiday, huzzah. I love the combo of reds, blacks, burgundy, and old school tartan. 4 new EGL coords and 1 casual dark.
2022.12.04
Still just outfit updates, sorry! Happy winter International Lolita Day~ 2 new EGL coords.
2022.11.15
Outfits!! 2 new EGL coords and 1 new casual sweet outfit. I'm still absolutely lost in the sauce with Colors TCG... This past weekend, I woke up and decided "let's hack together some javascript card sorters!!" :P
2022.10.31
Happy Halloween! 2 new outfits: 1 new EGL coord and 1 new menhera outfit. I added a transparent Sasazuka chibi to the Collar x Malice scans page. Added contact info on the About page.
2022.10.25
I've been in an EGL mood since rewatching Kamikaze Girls a few weeks ago! 4 new EGL coords.
2022.10.09
I'm in a bit of an update slump with the rest of my pages, but I have more outfits. Added 4 new: 3 egl, 1 casual dark.
2022.09.28
Added 2 new outfits: 2 casual dark.
2022.09.24
Added 2 new outfits: 1 casual sweet, and 1 casual dark. Updated the Links page with a few more buttons.
2022.09.11
Added 4 new outfits: 2 casual sweet, and 2 casual dark.
2022.08.29
Going through and updating links!
2022.08.28
Chipping away at my EGL wardrobe. Added 2 new skirts.
2022.08.27
It's a hot gothic summer. /melts Added 5 new outfits: 2 egl, and 3 casual dark
2022.08.23
I've created a Sketch Blog for dumping doodles and thoughts and inspo.
2022.08.21
I'm not happy with the temp layout, but I have a Gallery page up with select fanart and nameless OC stuff. I think I want to break it out into a separate layout eventually.
2022.08.14
I'm working on a huge archive dump of some 7,000+ LJ icons I collected back in the day. Amazingly all of that is under 160MB. Very big WIP. You can see how I put these into use by making super funky rainbowy aesthetic pages to decorate my school stuff.
2022.08.06
Updating OC pages. Added more to the Collar x Malice gallery.
2022.08.02
Added 4 new outfits from last month: 2 egl, 1 pastel and 1 casual dark
2022.07.31
I went all out with art fight this year but I am finally done now! All my pieces have been uploaded to my gallery page here, and I'll be cataloging all the defenses I got on my OC pages later. PHEW. Side note: I wish I had time to do more attacks, but like 99.9% of the time I was sweating at my revenge queue hahaha.
2022.07.08
My brain is 1000% in Art Fight mode right now, so I've started adding my drawings here!! I'm challenging myself to do fully composed illustrations (character and scene background) and it's been very rewarding. Please feel free to fight me if you are participating! (I'm team Bloom, but I'm happy to do friendly fire - especially if you are a neocities mutual!)
2022.06.26
Added three new pastel outfits and one weeb outfit featuring a Dark Magician Girl shirt.
2022.06.23
Art Fight is soon upon us! I've made a gallery for last year's attacks.
2022.06.19
I've been on a huge drawing spree in preparation for artfight. I'm still adding extra content on my OC pages here and there. I have really strong brainworms for making illustrations in the style of VN CGs right now ahhhh. I have some outfits and scans to clean up and post in my backlog too.
2022.06.08
This is rushed because work is hellish this week, but it is the birthday of my fav anime boy Takeru Sasazuka!

I put a small selection of artwork from my Collar x Malice artbook collection online... because I don't know when I'll get around to making my blog layout with them hahaha.
2022.06.05
Added more outfits: 2 EGL and 3 casual/dark/misc. Some small udpates to the About and About the Webmaster pages.
2022.05.30
Finally finished editing and compiling A HUGE DUMP of journal comics from 2012-2016.
2022.05.22
New outfits added: 2 EGL and 4 casual/dark/misc. Added 2 new skirts to the EGL wardrobe page. Continuing to add to my OC Masterlist. I adopted two new chars recently, so I need to add them plus some others.
2022.05.15
Started taking a swing at my OC pages, including my most favorite, awful, edgelord anime daughter Accelera.
2022.05.14
Various updates including new Casual Dark outfits and Weeb outfits. Cute new pixel icons are from the lovely Whimsical. +2 new skirts to EGL wardrobe.
2022.05.09
Collecting cool sites on the new Links page. Also hi, visual kei gifs I made just over 10 years ago.
2022.05.08
New Sweet Coords page with outfits from this year so far. Started EGL & Otome Coords page - WIP. Kicked off the EGL Wardrobe Page with 2 out of 30-something items.
2022.05.01
New Menhera Coords page. Added info in About.
2022.04.24
We are liveeee.
latest blog entry
[2023.02.20] Doodles and doodles
+ various fanart doodles/sketches
+ misc photo blogging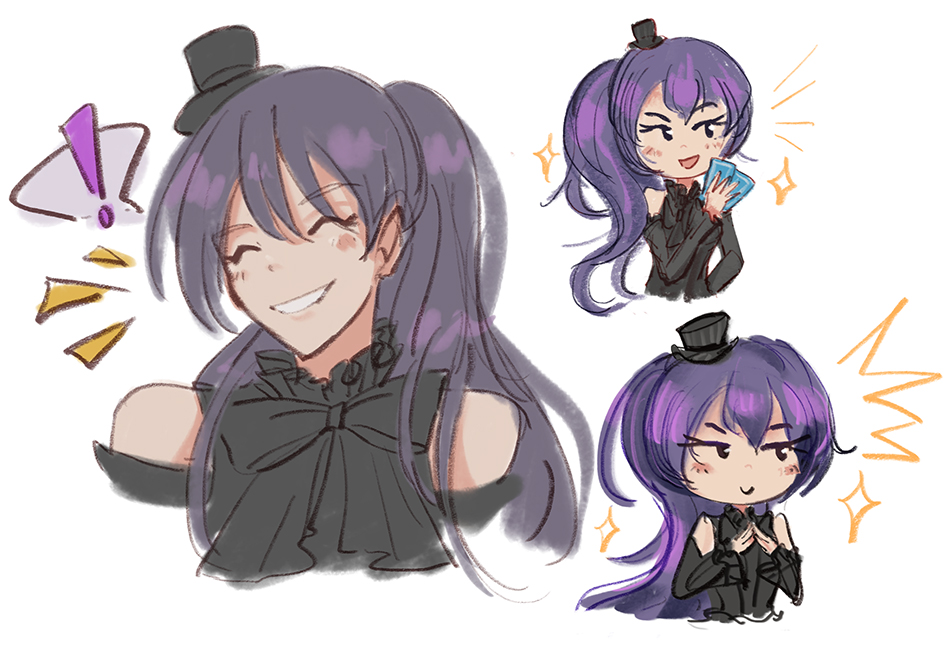 ---