tophatcat's hecking webbed site
hello, hello, world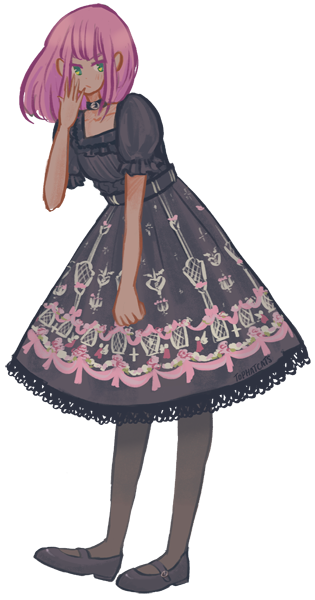 Welcome to this corner of the internet where I inflict my creativity upon the digital world. I organize my art, OCs, j-fashion blogging, and other odds and ends here. I wear casual lolita/egl, menhera, and an amalgamation of alternative fashion and weeb streetwear.
Pardon the dust!
---
updates
2022.06.26
Added three new pastel outfits and one weeb outfit featuring a Dark Magician Girl shirt.
2022.06.23
Art Fight is soon upon us! I've made a gallery for last year's attacks.
2022.06.19
I've been on a huge drawing spree in preparation for artfight. I'm still adding extra content on my OC pages here and there. I have really strong brainworms for making illustrations in the style of VN CGs right now ahhhh. I have some outfits and scans to clean up and post in my backlog too.
2022.06.08
This is rushed because work is hellish this week, but it is the birthday of my fav anime boy Takeru Sasazuka!

I put a small selection of artwork from my Collar x Malice artbook collection online... because I don't know when I'll get around to making my blog layout with them hahaha.
2022.06.05
Added more outfits: 2 EGL and 3 casual/dark/misc. Some small udpates to the About and About the Webmaster pages.
2022.05.30
Finally finished editing and compiling A HUGE DUMP of journal comics from 2012-2016.
2022.05.22
New outfits added: 2 EGL and 4 casual/dark/misc. Added 2 new skirts to the EGL wardrobe page. Continuing to add to my OC Masterlist. I adopted two new chars recently, so I need to add them plus some others.
2022.05.15
Started taking a swing at my OC pages, including my most favorite, awful, edgelord anime daughter Accelera.
2022.05.14
Various updates including new Casual Dark outfits and Weeb outfits. Cute new pixel icons are from the lovely Whimsical. +2 new skirts to EGL wardrobe.
2022.05.09
Collecting cool sites on the new Links page. Also hi, visual kei gifs I made just over 10 years ago.
2022.05.08
New Sweet Coords page with outfits from this year so far. Started EGL & Otome Coords page - WIP. Kicked off the EGL Wardrobe Page with 2 out of 30-something items.
2022.05.01
New Menhera Coords page. Added info in About.
2022.04.24
We are liveeee.
Mobile ok. Best viewed on desktop.
---