Baka Neko Sketch Blogging - 2022 Archive
[2022.10.09] Small updates for October and some art

My brain has not felt compelled to do any major site updates recently, and I'm struggling a bit to write at the moment. I've continued my copic marker studies, watched a HECK ton of movies that I'll probably blog about later, and tried to pick up Procreate for digital art again.
Some recent obsessions: Angelic Pretty's halloween print this year - Happy Treat Party!! I was going to pass on the release ever since I saw the preview, since it seemed like a shopping bloodbath… but I managed to score my preferred cut and colorway in the post-battle leftovers! I'm really weak to super versatile skirt/salopette cuts and black x pastel colorways. ;v;
Second, I played the new backer's mini beta for The Silent Kingdom this weekend. No spoilers or screencaps this time, but AHHHHHHHHH I'm so excited for more updates. SENECA, MY BELOVED. >:)
Ok, art time: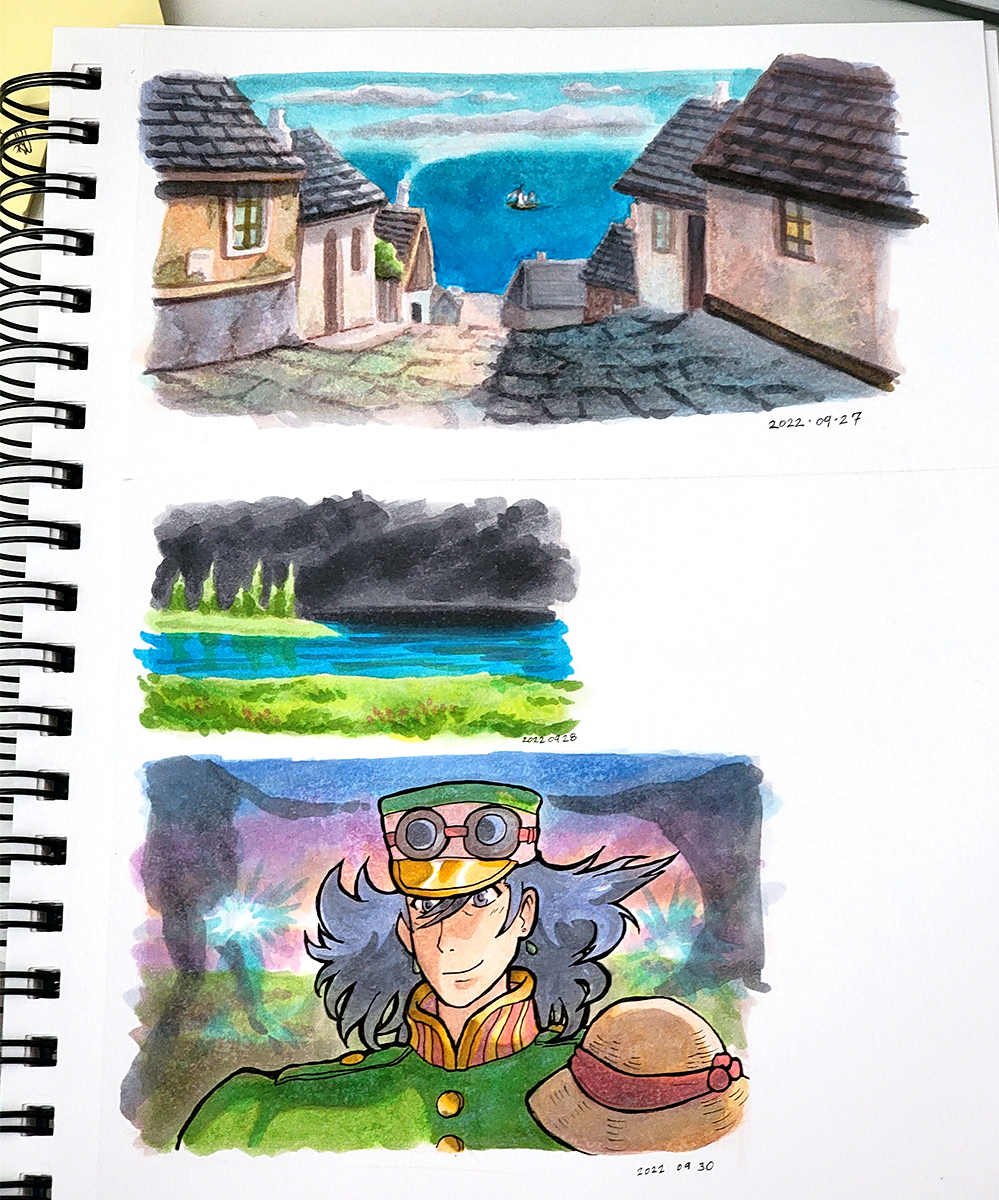 Studies from The Art of Howl's Moving Castle in copic markers.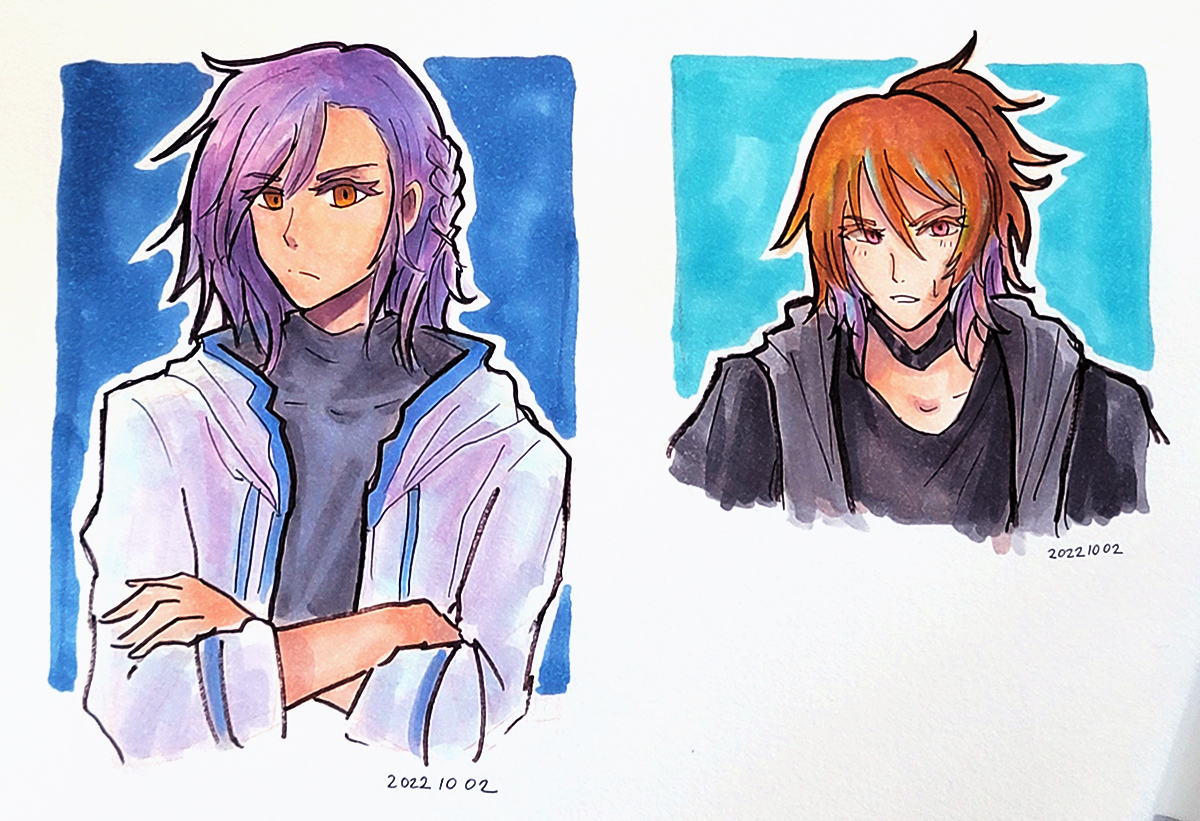 My OCs Nao and Cy.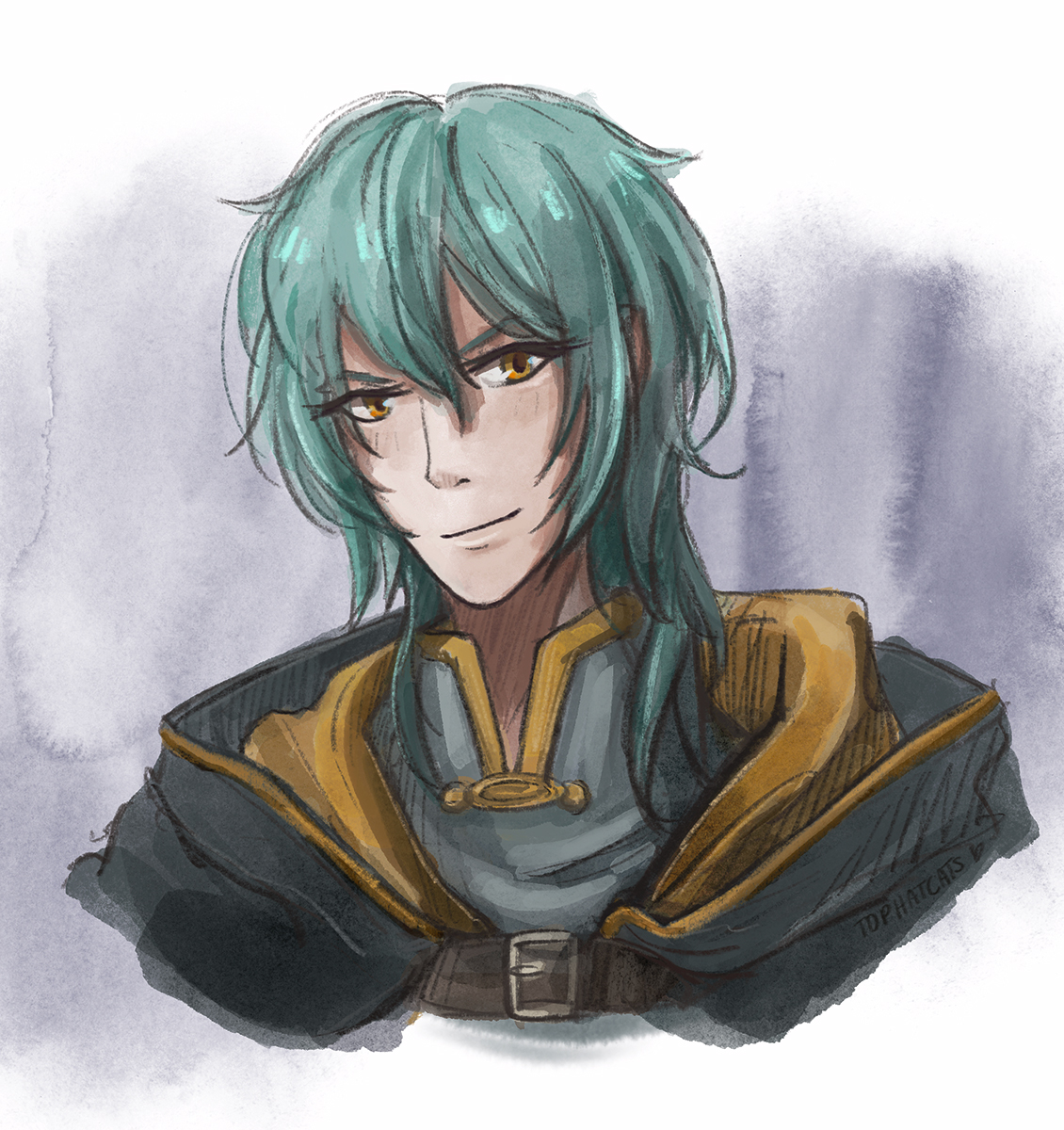 Silent Kingdom fanart of Seneca the Magician.
current mood: meh
current music: The Secret World of Arrietty Soundtrack by Cécile Corbel
---

[2022.09.25] Spirited Away Marker Studies

I just finished a page of marker studies, and I'm very happy with them!! So here we go, making a late night blog post. :P
Some quick background, I rewatched Spirited Away and Howl's Moving Castle recently. (And also a bunch of other movies, because I've been on a rare binge watch spree.) It's probably been 8 or so years since I last saw either of them, and so it was such a treat! I went on a hunt for some Ghibli artbooks right after.
I did two pages of thumbnail color studies from Spirited away. I feel like my color picking for landscape backgrounds have been really weak in the past, so I focused on skies and vegetation. I feel like the blues and greens were way more saturated than I remembered. I want to try reworking some of my old original backgrounds with a more vibrant (and thought out) color palette in mind.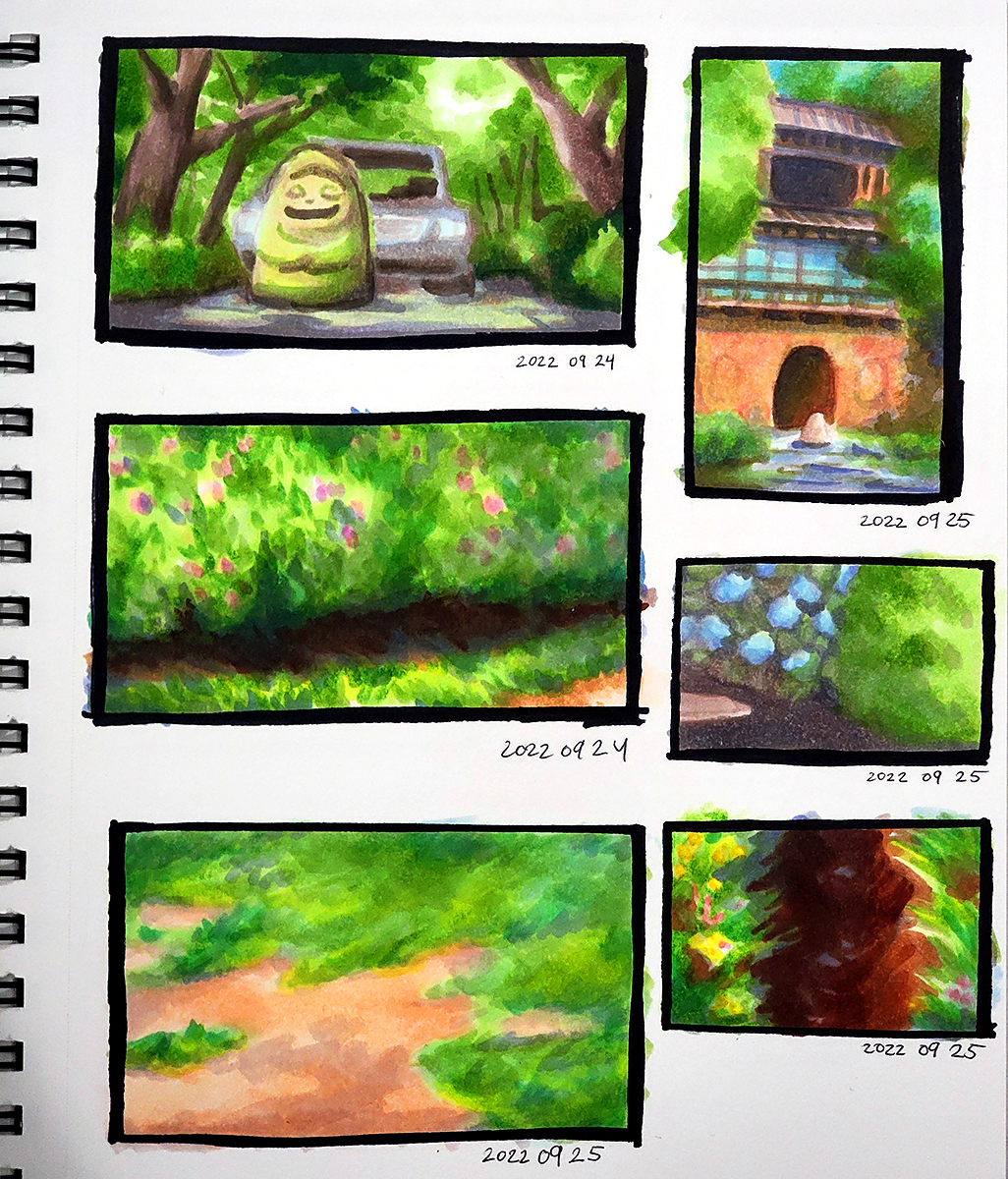 vegetation studies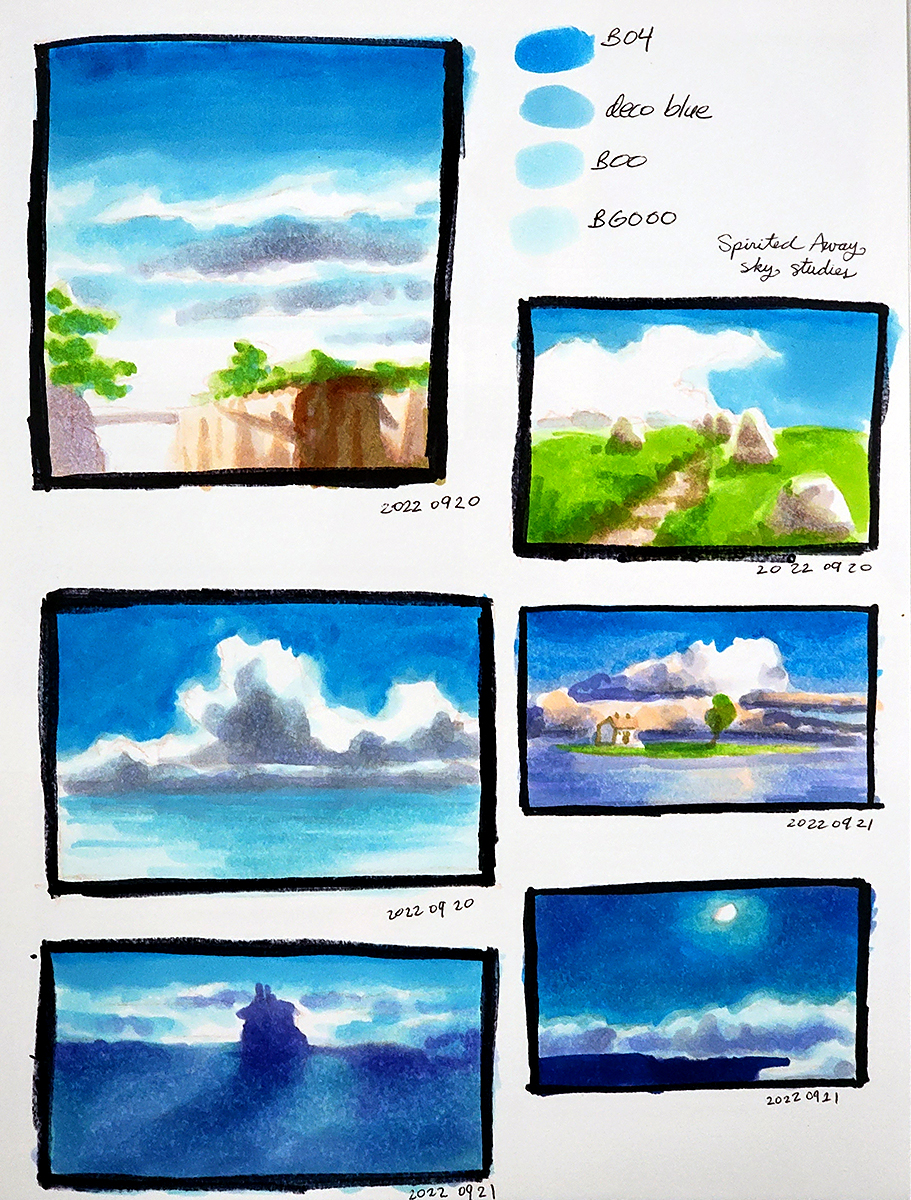 sky studies
And here's the artbook I referenced! I feel like Kinokuniya's artbook section costs an arm and a leg these days, BUT this softcover was a steal at just $20 haha. I got The Art of Howl's Moving Castle english hardcover too. I'll be doing some studies from that later.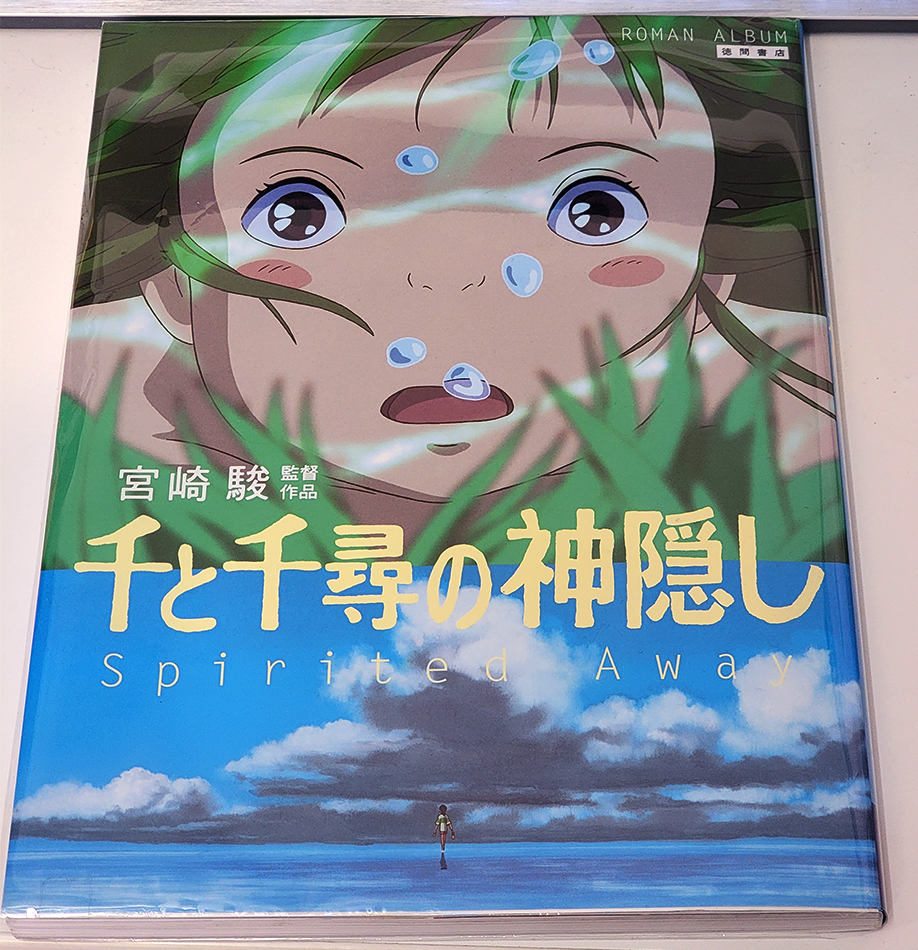 current mood: creative
current music: Haven Original Soundtrack by Danger
---

[2022.09.11] Indie JRPG demos (no spoilers), more marker art, and WIPs

I'm trying not to think too hard about returning to work again tomorrow. I've been enjoying some time off and catching up on a TON of games in my backlog. Two of these are demos for indie games that were funded on kickstarter, both I'm super excited for: The Silent Kingdom by Lucky Cat and Keylocker by Moonana.
The Silent Kingdom is a dark otome JRPG by an artist who I've been a huuuuuuge fan of since way back when I lurked on LJ around 2009. The character art is *chef's kiss* and I'm a sucker for JRPGs and branching stories with tons of dialogue choices. The demo includes the whole prologue, and it took me a bit under 2 hours to finish. (Some of the battles towards the end had me sweating.)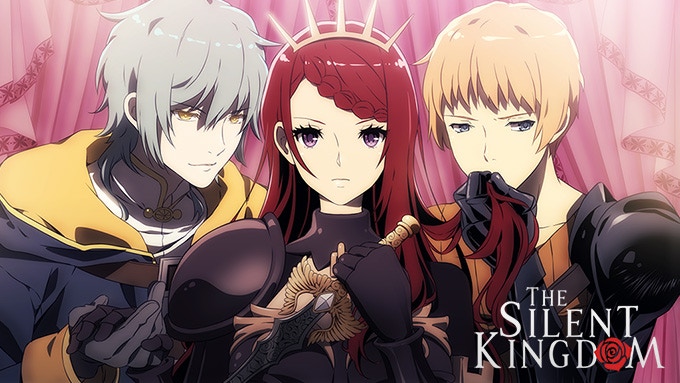 Promo illustration for The Silent Kingdom
I'm very predictably going to go romance Seneca the Magician because lmao look at him.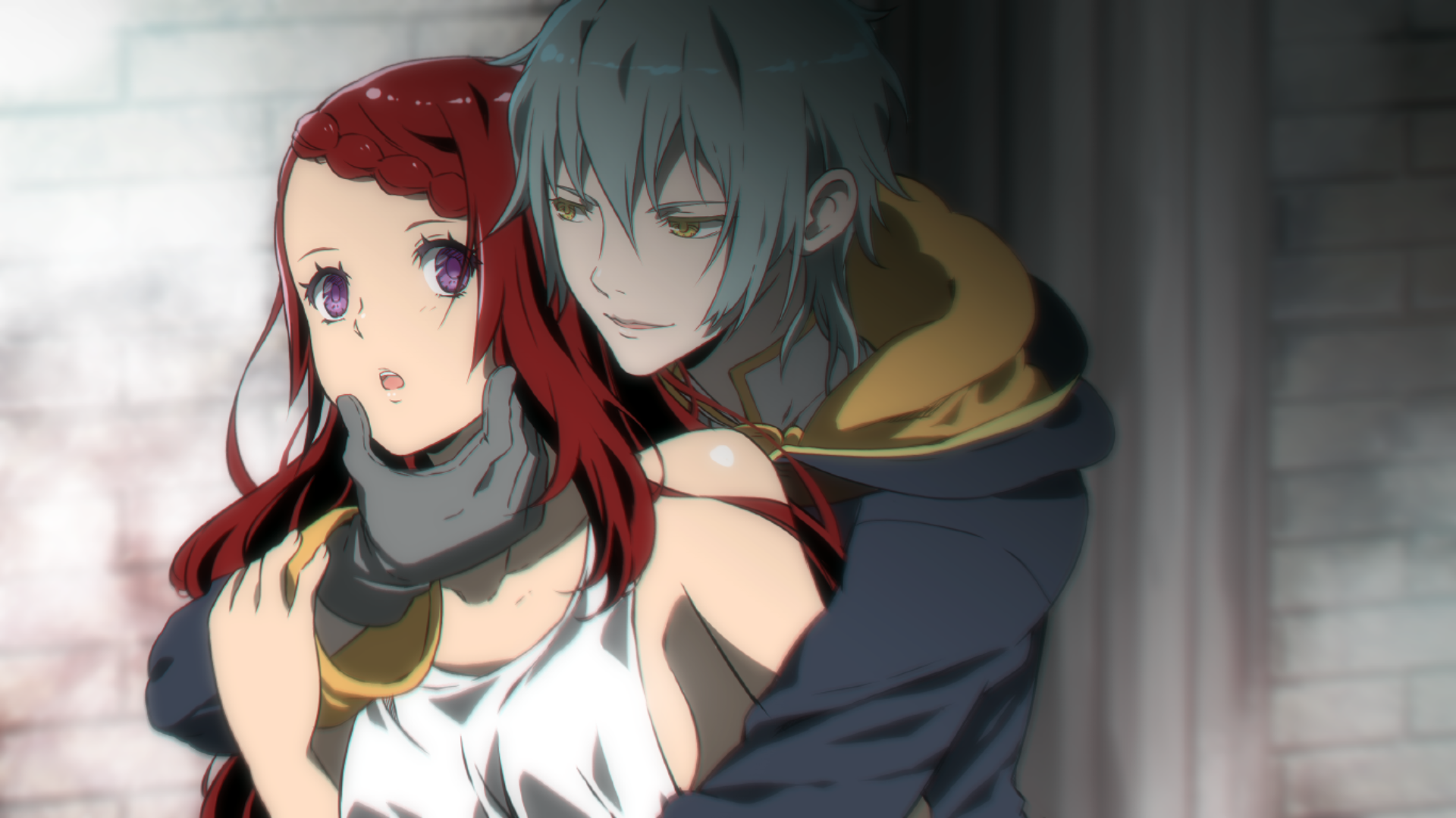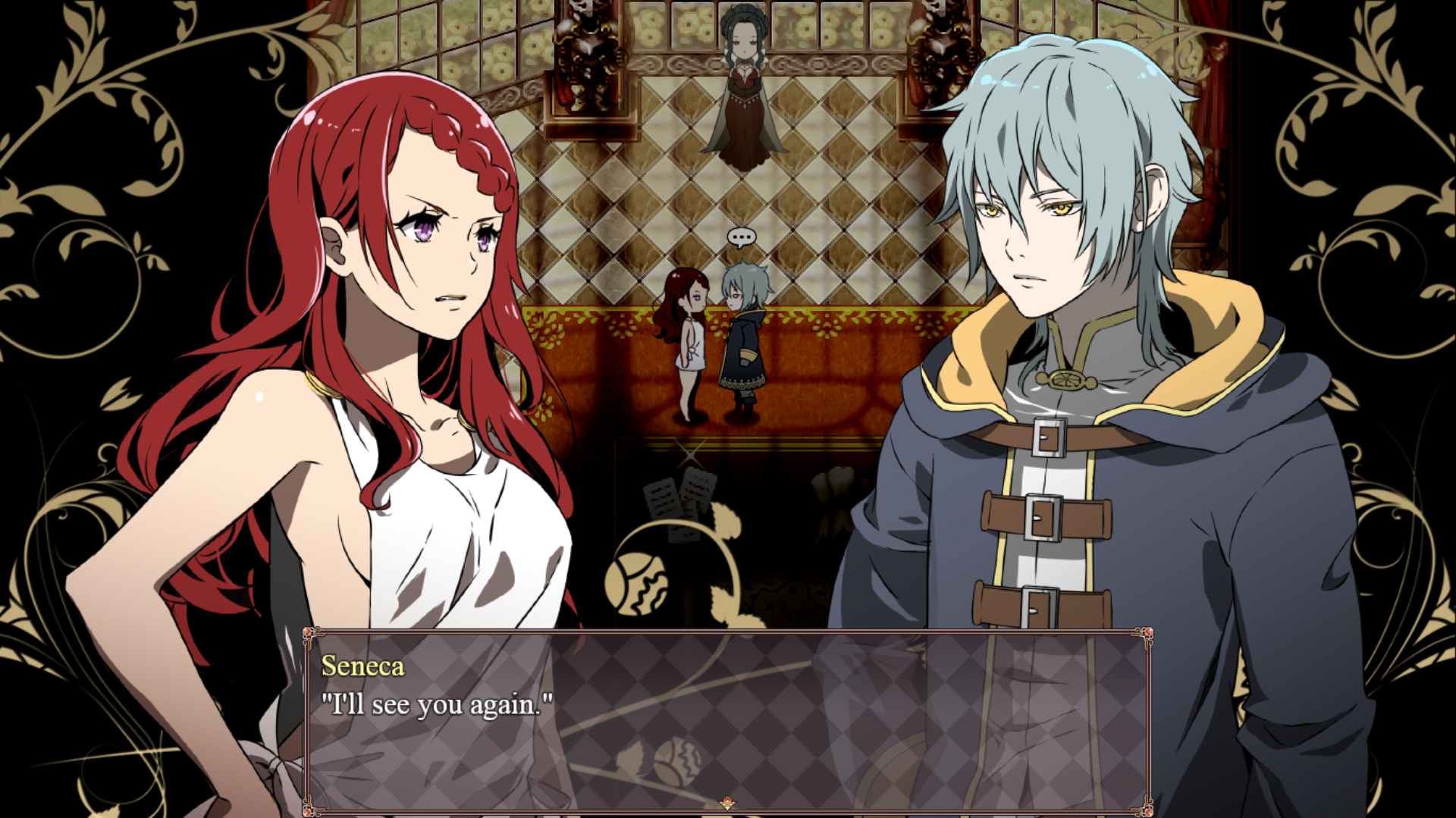 Bonus: Here's my fav char type bingo card from 2020(?) for who I typically latch onto as my fav lol.
The second game, Keylocker, is a super stylish cyberpunk tactical rhythm JRPG, very similar gamelplay-wise to the dev's previous game Virgo Versus the Zodiac (my beloved!!!). There's 4 different classes you can play in the demo, each with unique playstyles, maps, and characters for a section of the prologue. The battle system can be tricky to get a hang of, since it's all timing based and you really need to stay on your toes. I have 1 last class to try (Sequencer), and I think that will take me to about 3 hours worth of gameplay total. I didn't take screenshots as I played so I just grabbed one from super early on.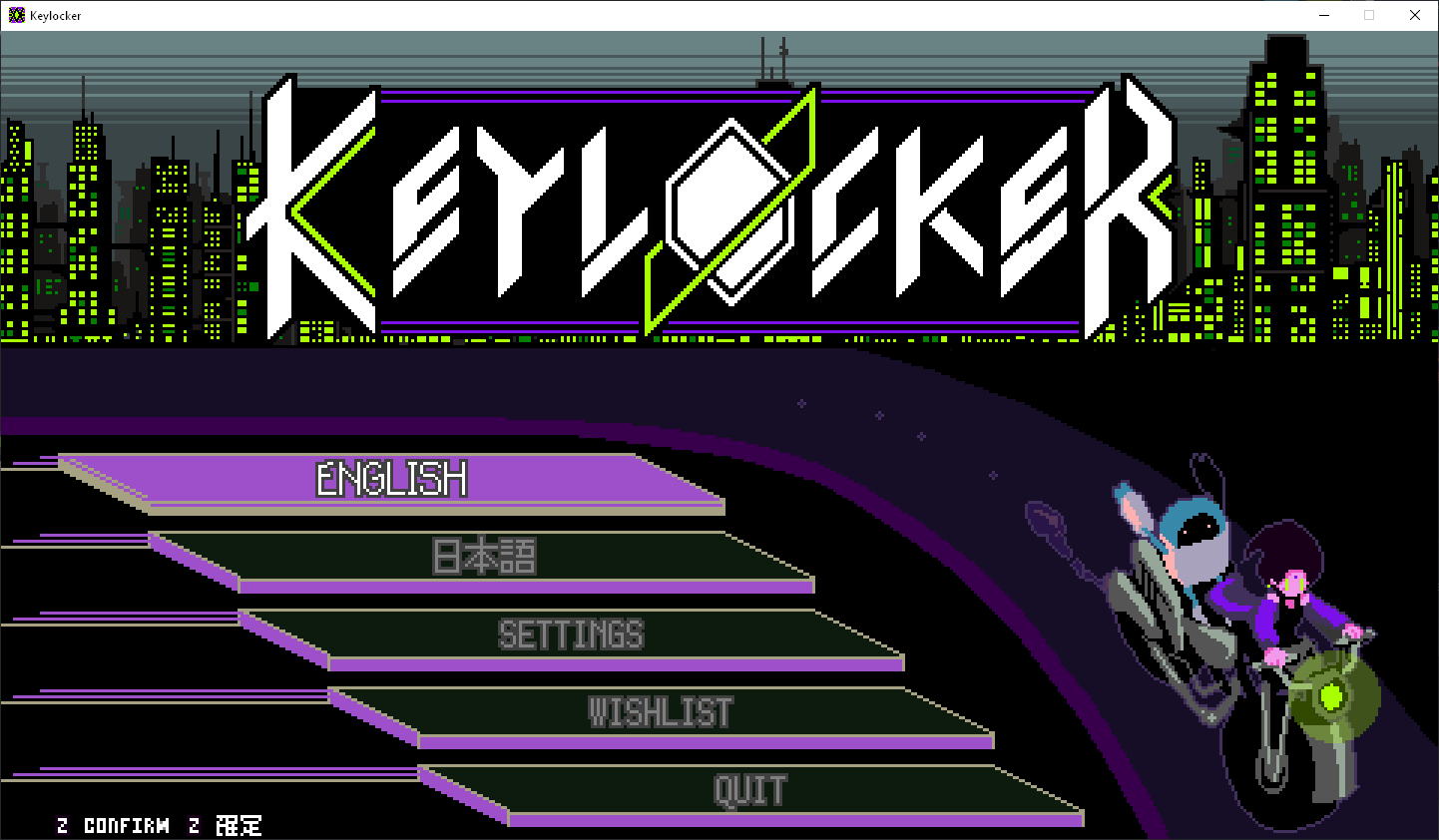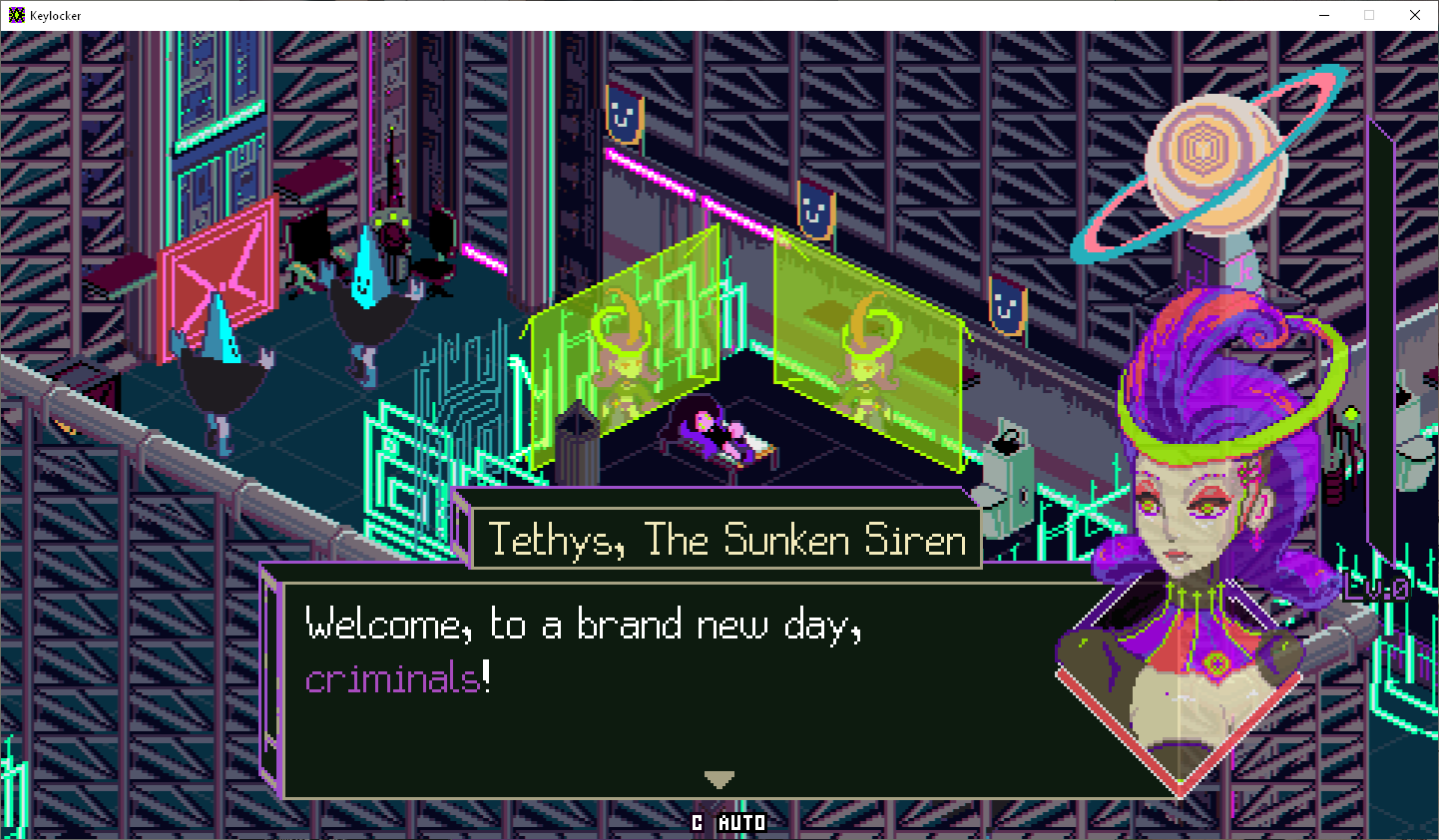 I played a couple other games too: Hollow Knight (I'm bad with platformers orz), some VNs by Ebi-Hime, Baba is You, and (replaying) Collar x Malice. I also finally(!!) cleared Shion's route in Variable Barricade; his route was kind of annoying 80% of the way through, but he was interesting enough by the end. I'm in the early part of Nayuta's route, and I Am Concerned (lol).
Anyway, some art! I did two other landscape studies this week. The first was a draw-along with EiffelArt on his twitch channel, using a photo he took and shared with his art discord. The second is based on this photograph by Flickr photographer saribrown.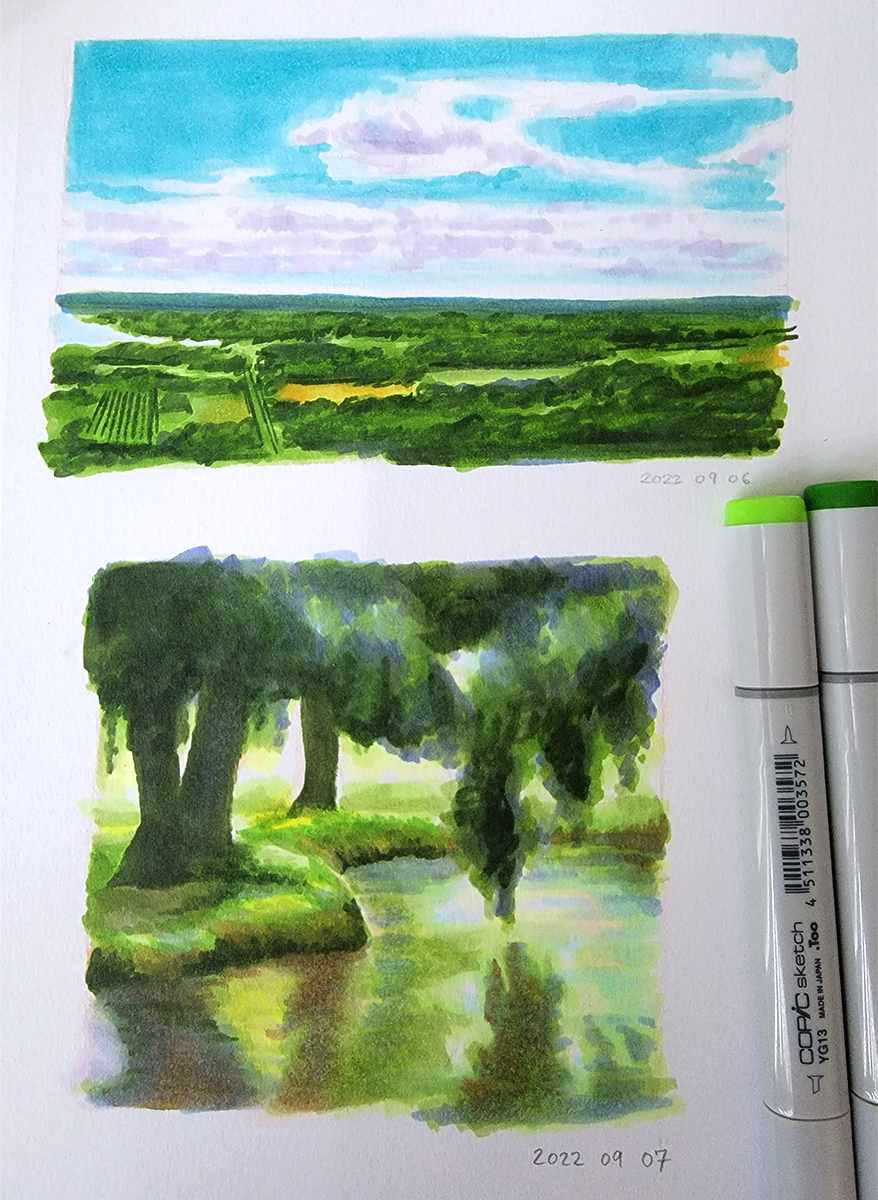 Also I tried to do a traditional art version of the Sasasasazuka sketch I posted last time, and the result was so so different.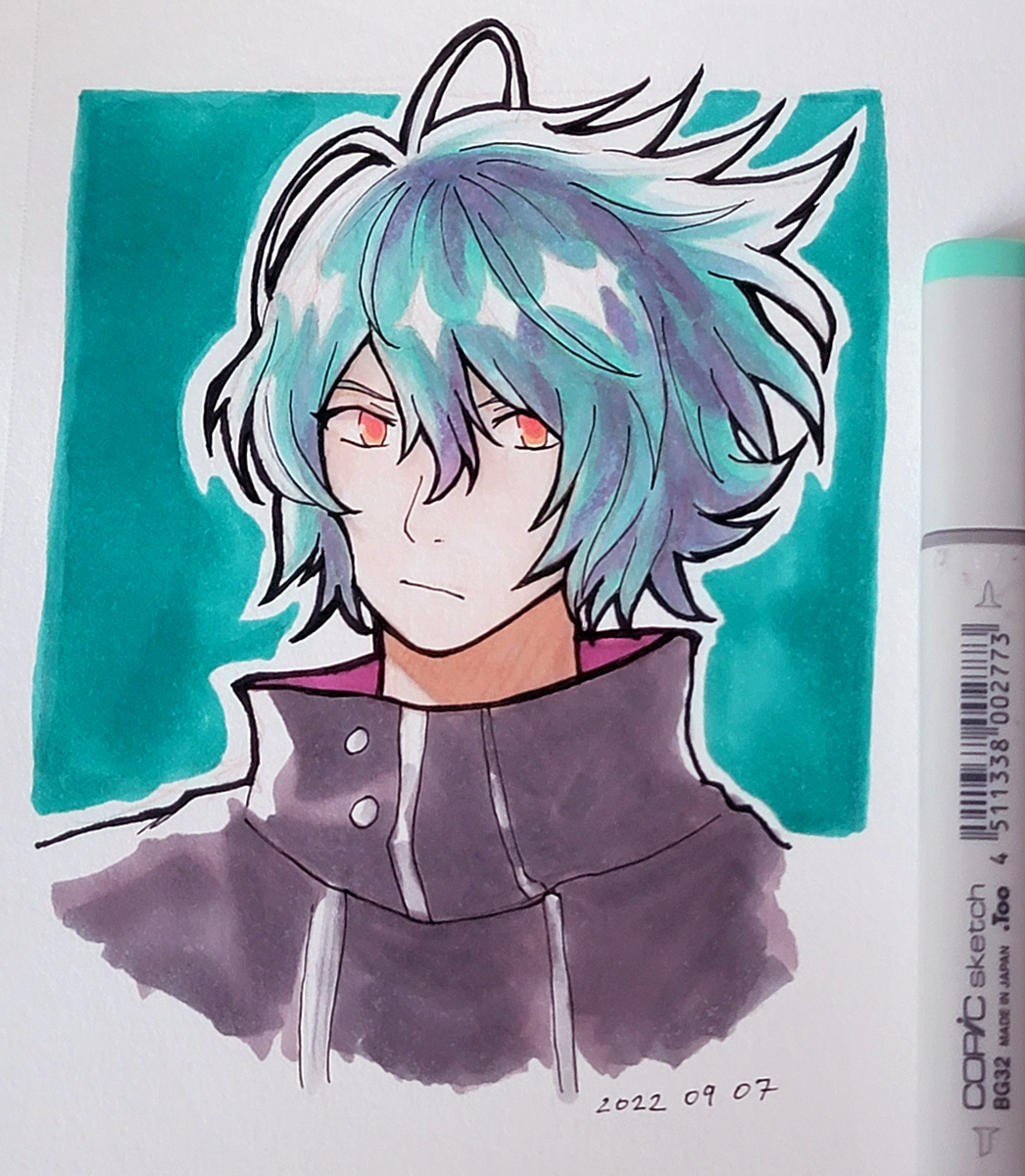 Here's my behind the scenes planning / struggle to figure out colors.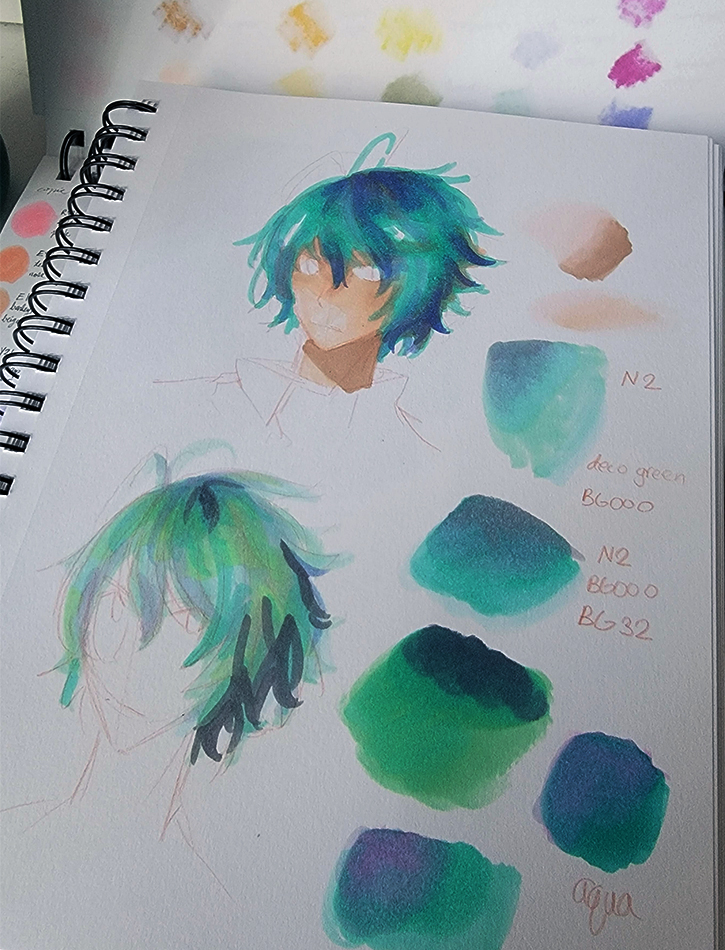 Last but not least, I have a bunch of WIP sitting in my clip studio folder. One of these is as old as March, and I'm just really leaning into 3/4ths anime portrait facing left mode.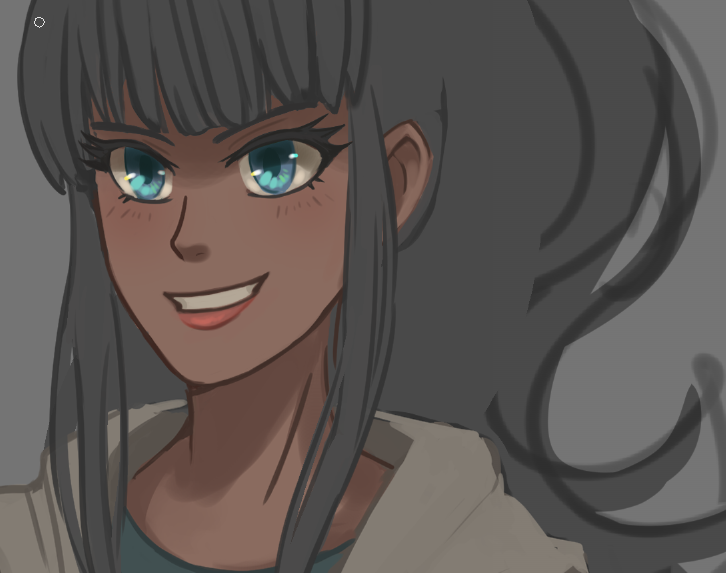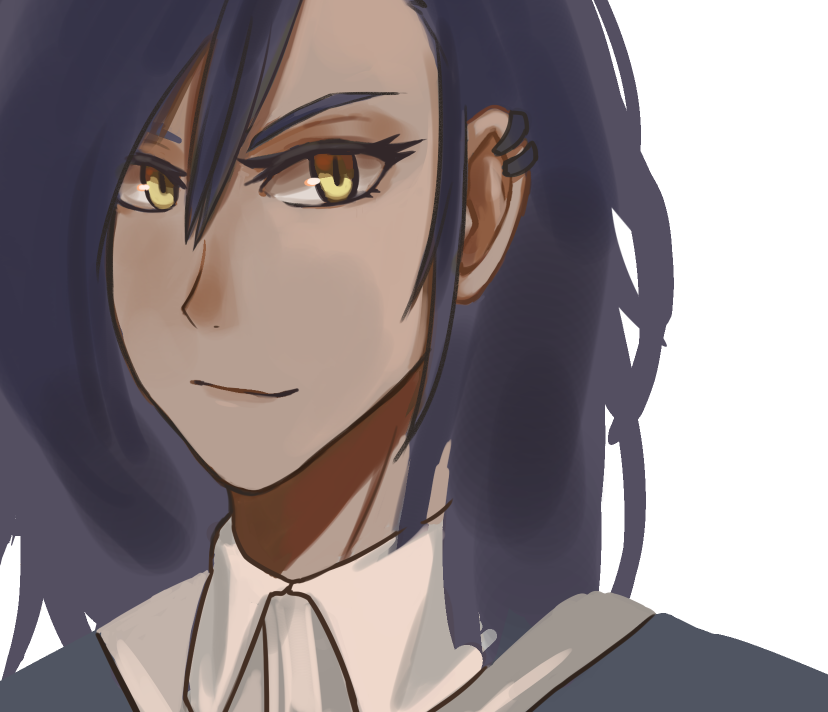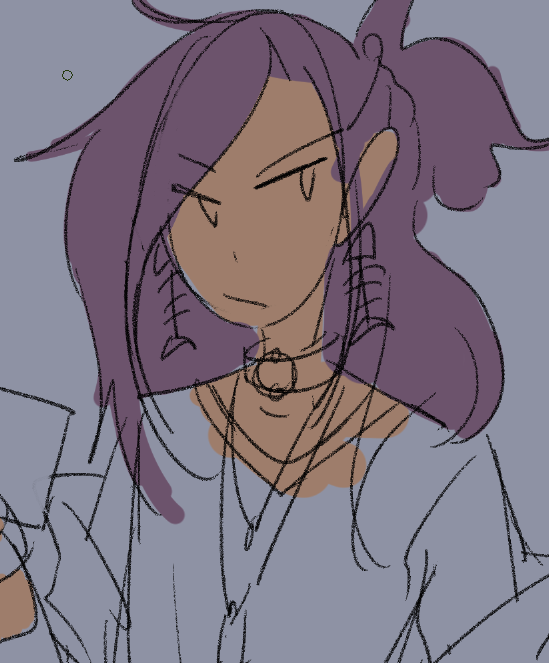 current mood: anxious
current music: Luna (title screen) from The Silent Kingdom
---

[2022.09.06] More Marker Studies!

I've been doing some landscape studies with markers the past few days. I'm super happy with how these turned out! The process for these was very similar to how I do watercolor landscapes, but the blending for clouds is a bit tricky. These are a mix of Copics plus some secondhand Prismacolor markers I was gifted late last year. (The used quality of the Prismacolors makes them less intimidating to work with, but some of the colors are dried out after 10+ years of disuse. :P)
These have a very loose/blobby feel to them, but I kind of like it. I tend to ruin things when I ink them TBH. I might give colored pencils a try though, for some hatching and definition in the future.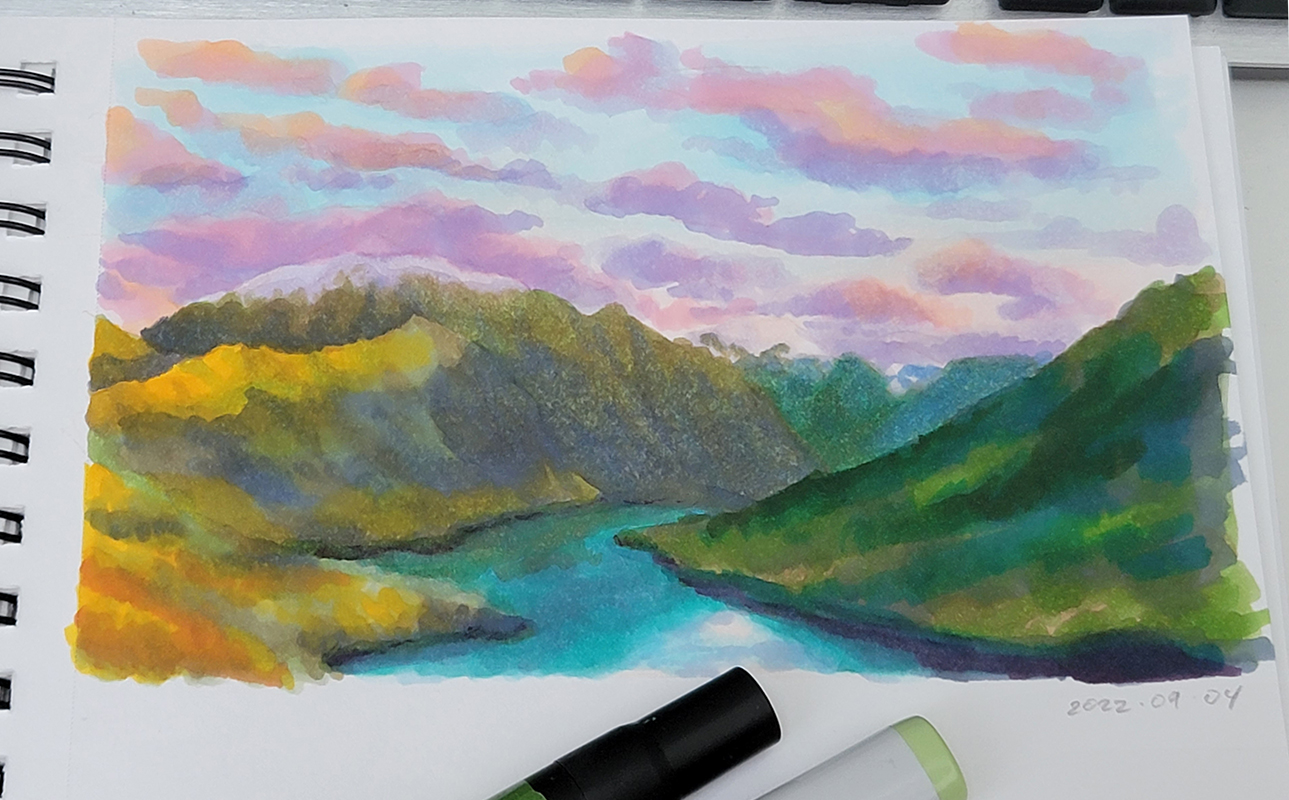 Photo Study 1 (ref)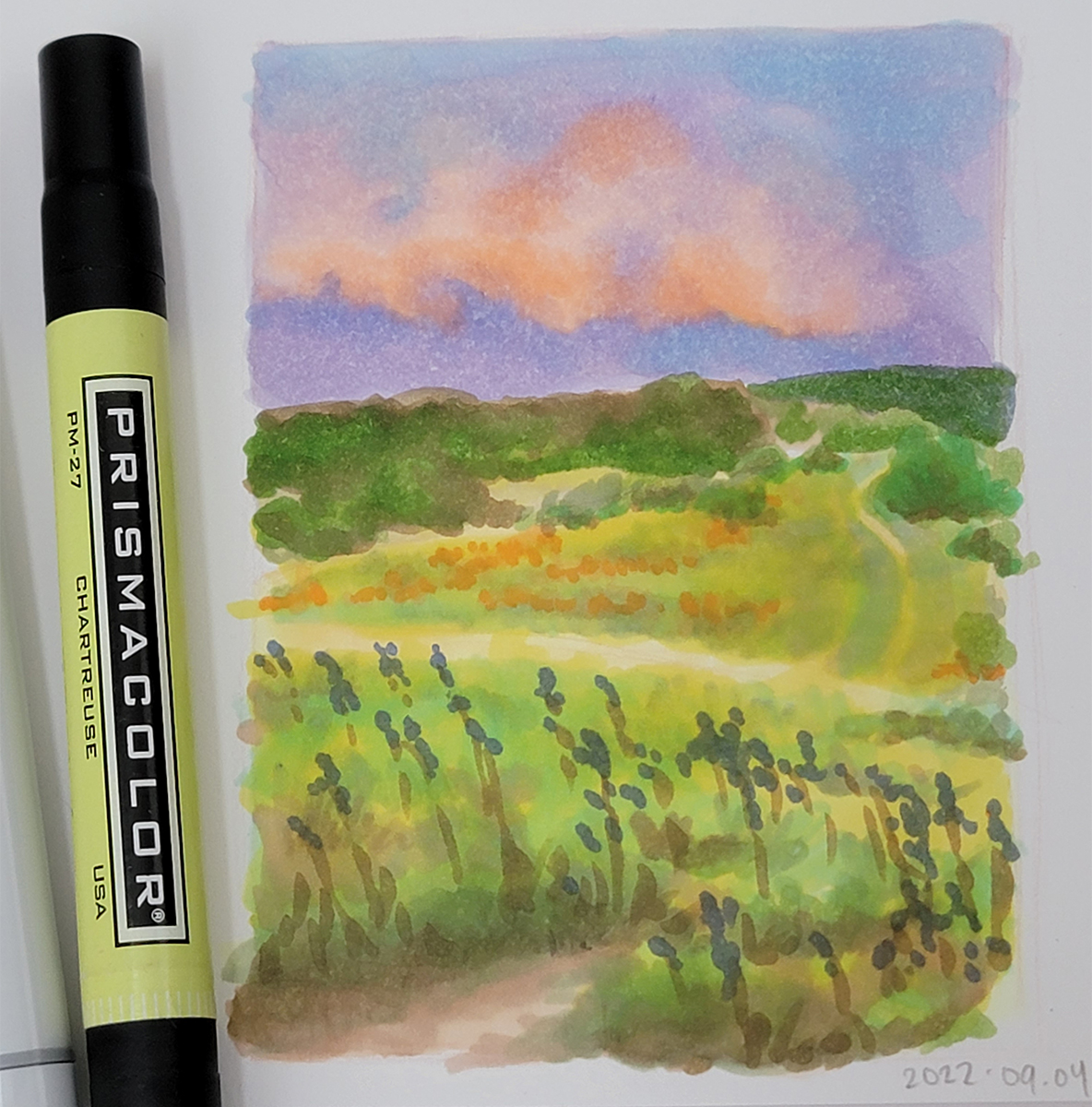 Photo Study 2 (ref)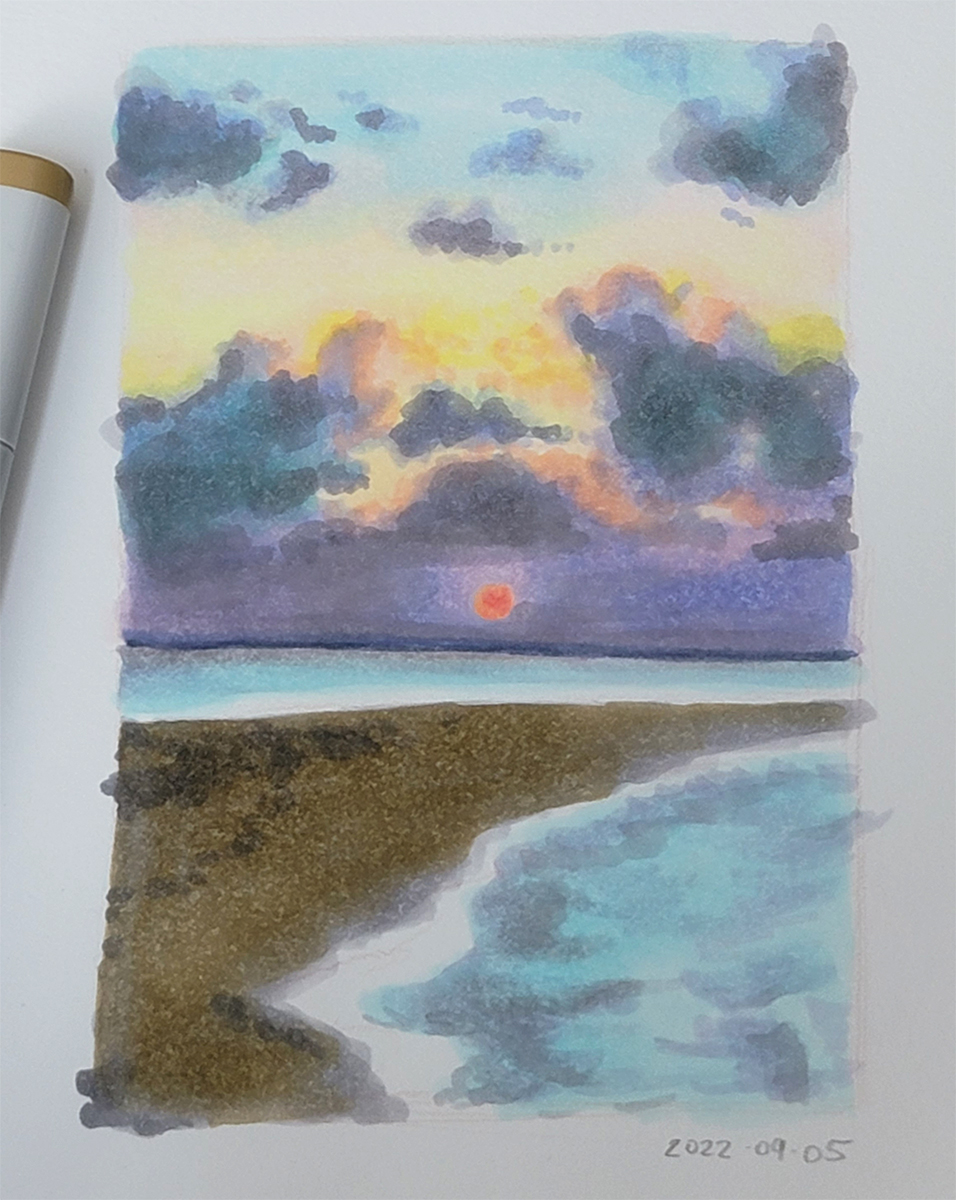 Photo Study 3 (ref)
I finally tried a character portrait. This one required a lot more planning, and I'm mostly happy with the final result. I sketched it out with some Prismacolor Col-Erase pencils, planned out the highlight areas, colored/shaded, and then inked the lines last. In the future, I might need to do a digital thumbnail first to figure out the colors ahead of time, since figuring out combos on the fly doesn't always turn out great in my experience.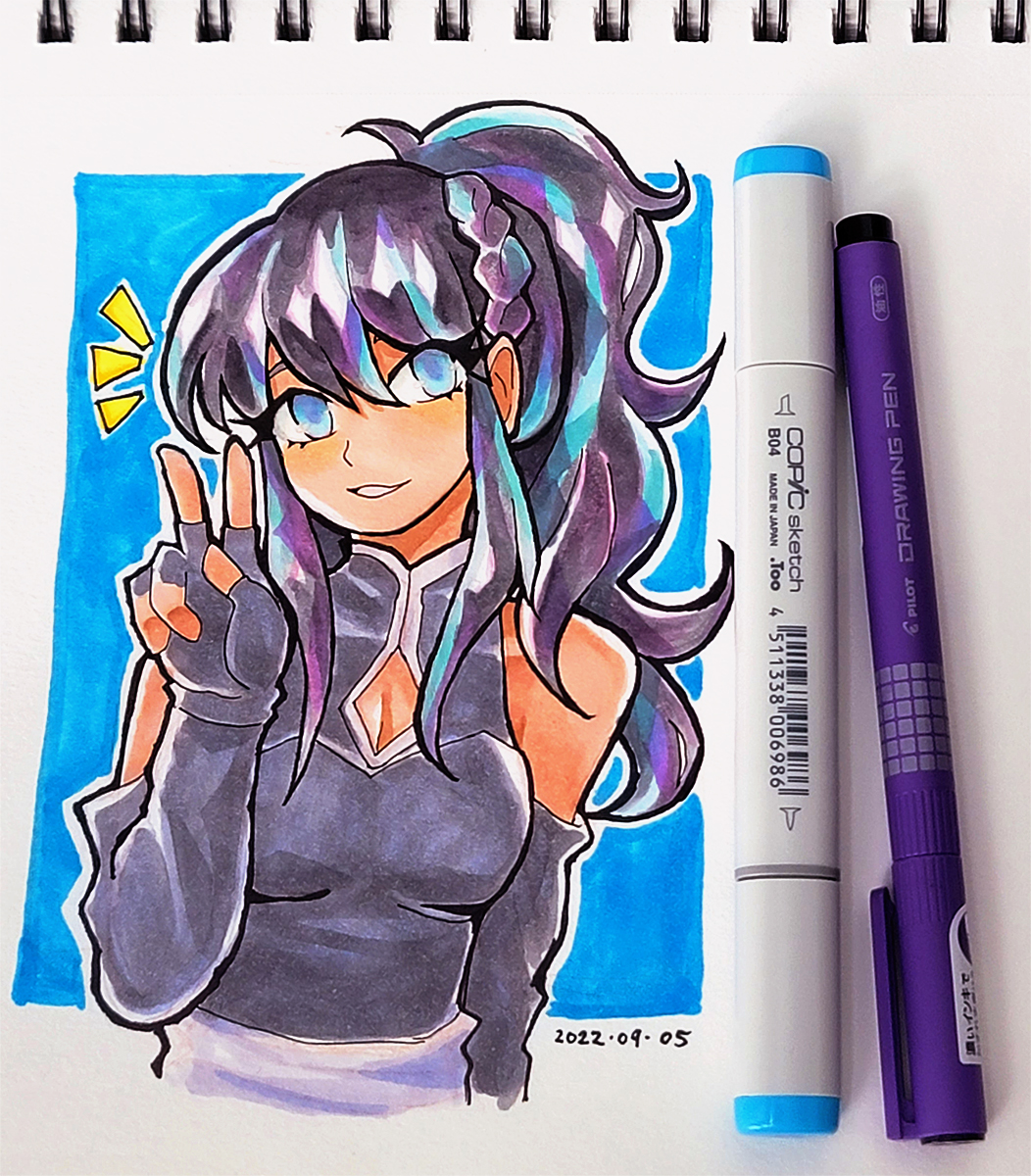 I have a couple of digital marker studies again, and I think I'm wrapping my brain around color mixing and shading better. I haven't tried this out IRL yet.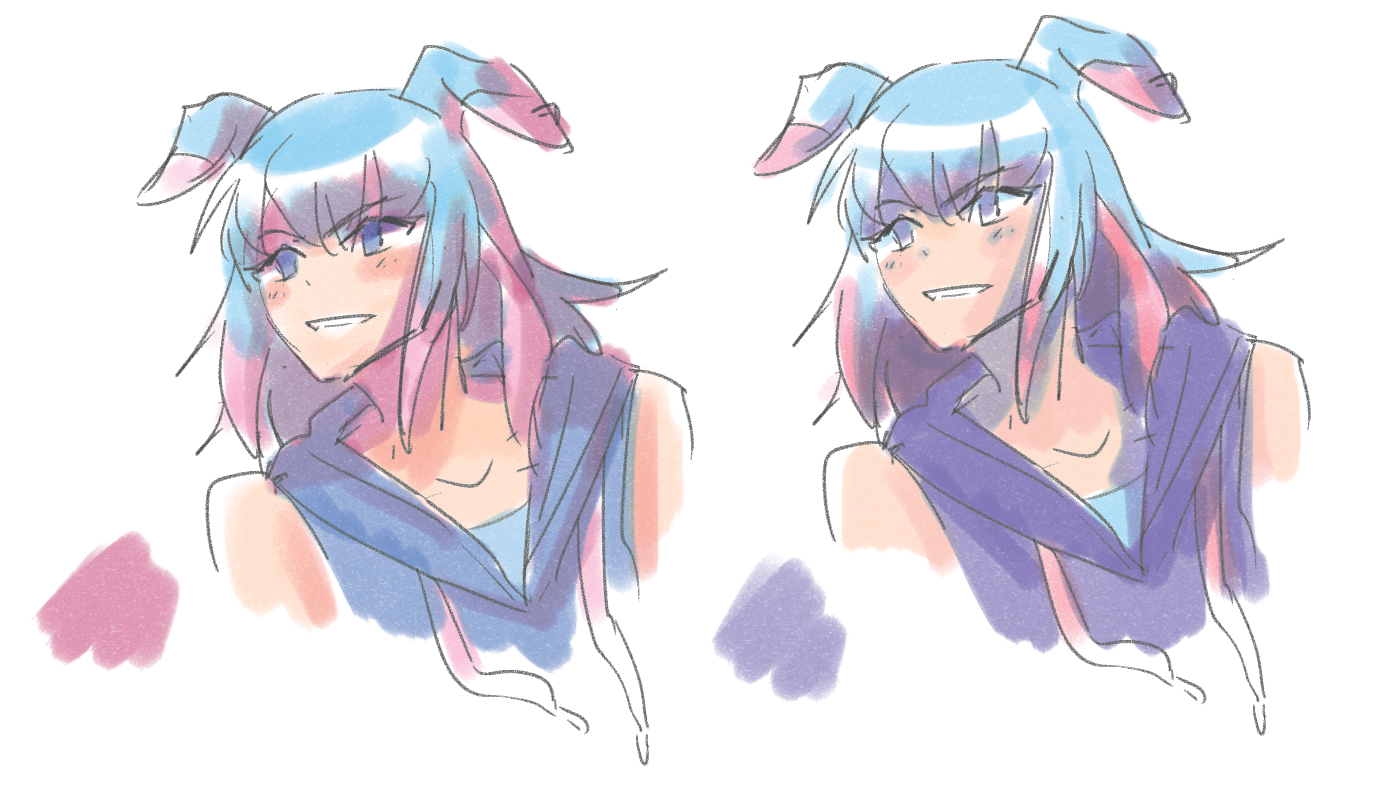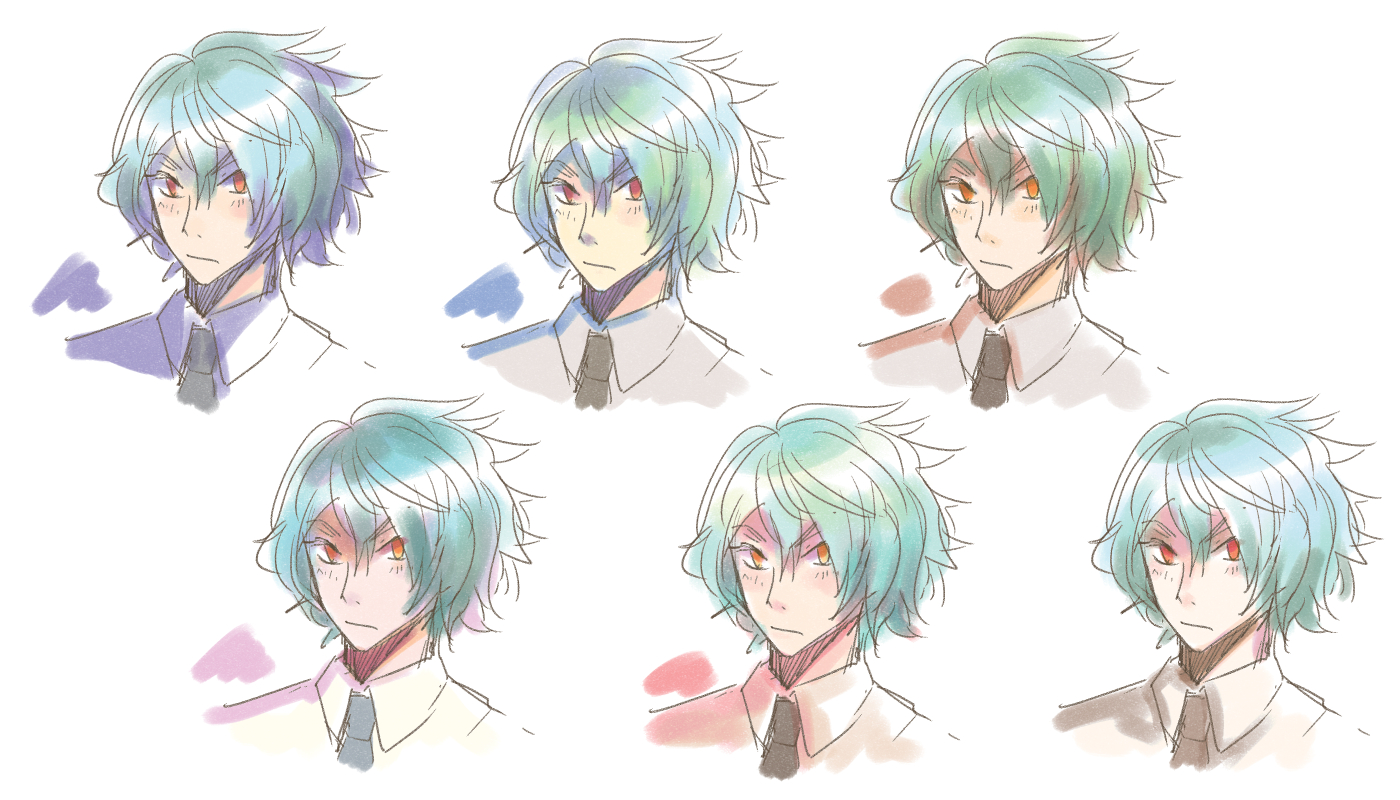 And one more piece! I had an itch to do some digital painting with dramatic lighting, so have another Sasasasasasasazuka.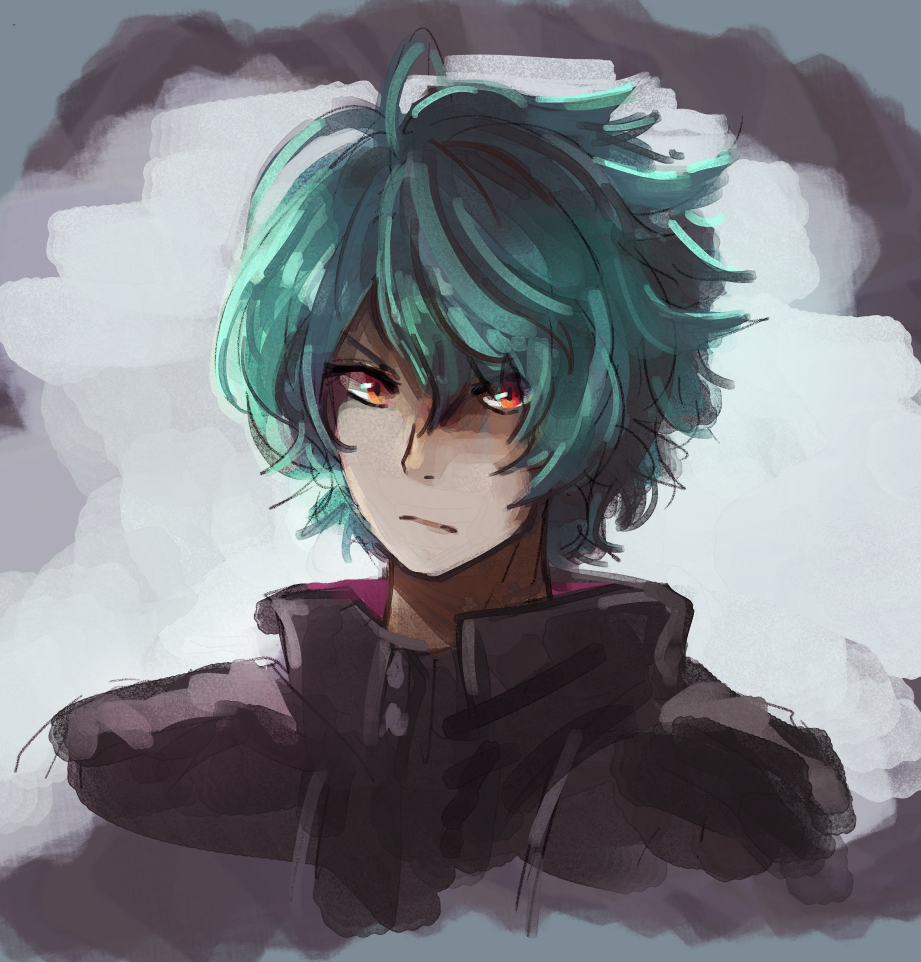 current mood: creative
current music: ROSIER cover by HIGH and MIGHTY COLOR
---

[2022.09.03] IRL Copic Markers are Intimidating

I don't have too much to write about this week, but I've been trying to figure out coloring and shading with traditional markers. My knee-jerk method for coloring is very digital, so I think I need to do some studies with traditional art and shading… For now, my goal is just to get comfortable with using my sketchbook and copics again. They've been collecting dust since last November's Huevember attempt.
For copic marker art inspo, I have these artists on my radar to study: Himegami Kawori (I found through one of copic's process videos), Eiffel Art (streams limited palette marker art on twitch), and Barachan (who I've been following for forever tbh).
Traditional art supplies still intimidate me, so I started trying to break down the process digitally first. I've really been enjoying this free marker brush for Clip Studio, and I found an old color set file intended for Manga Studio on my laptop that mimics the copic color selection. I set the brush color blending to "darker" and did most of these on single layers.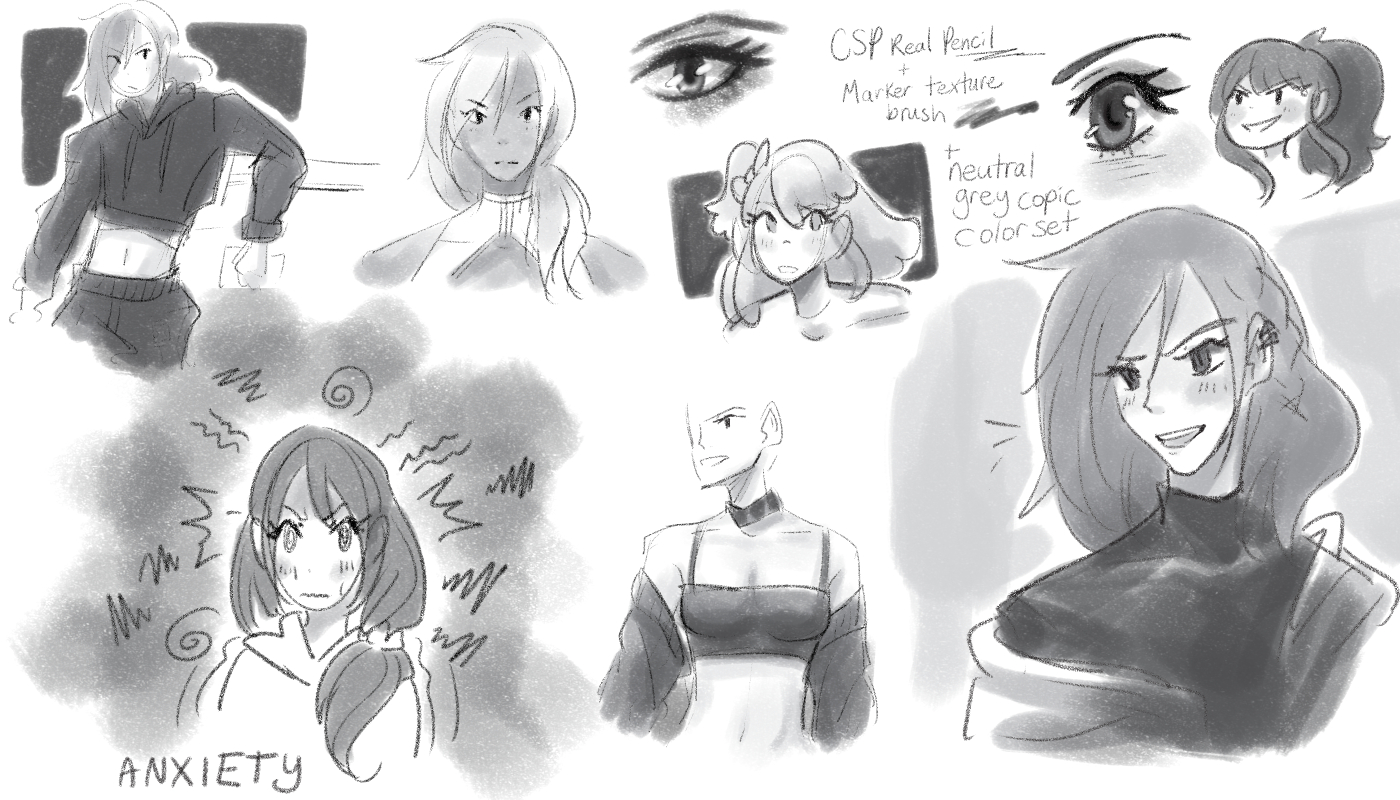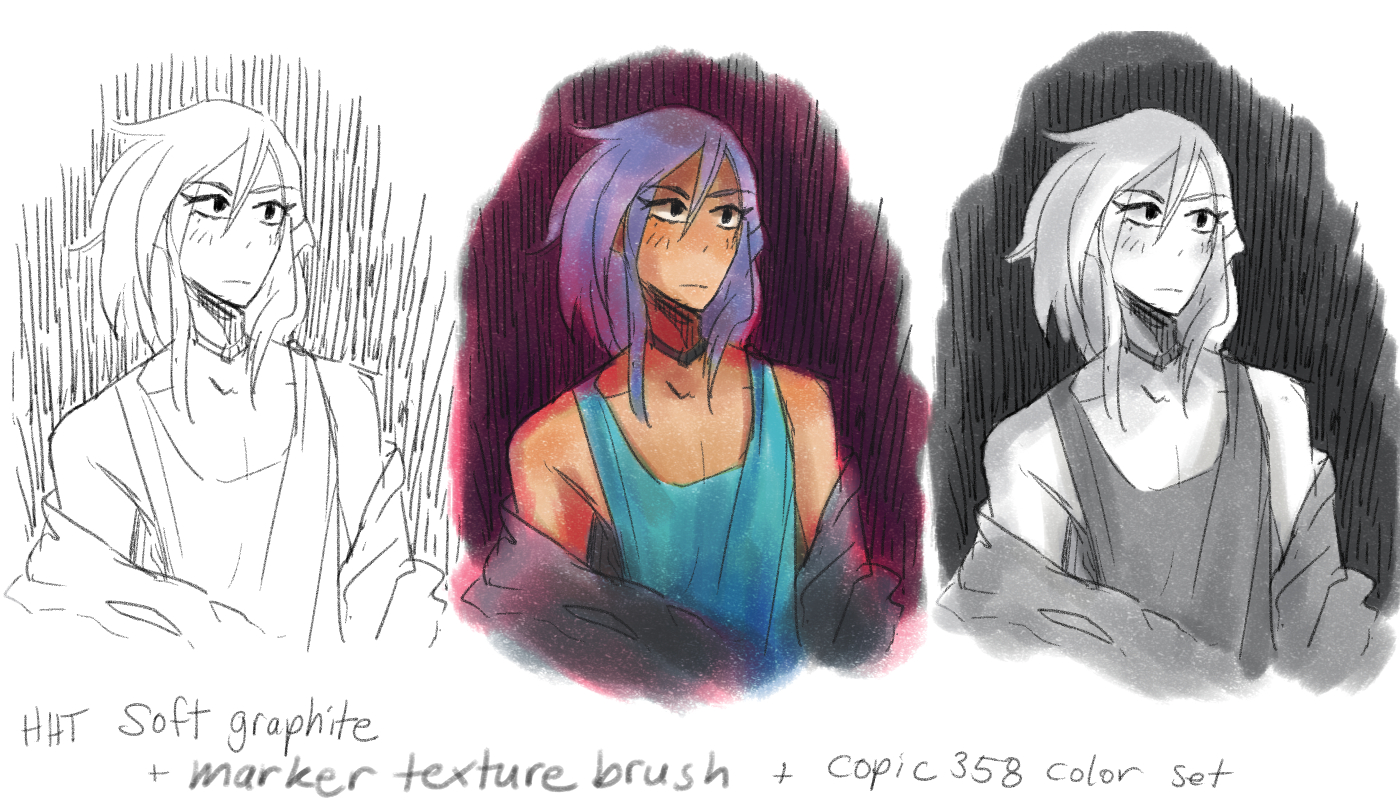 Ok, there's only three marker style piece on the one below, because I got distracted testing other brushes: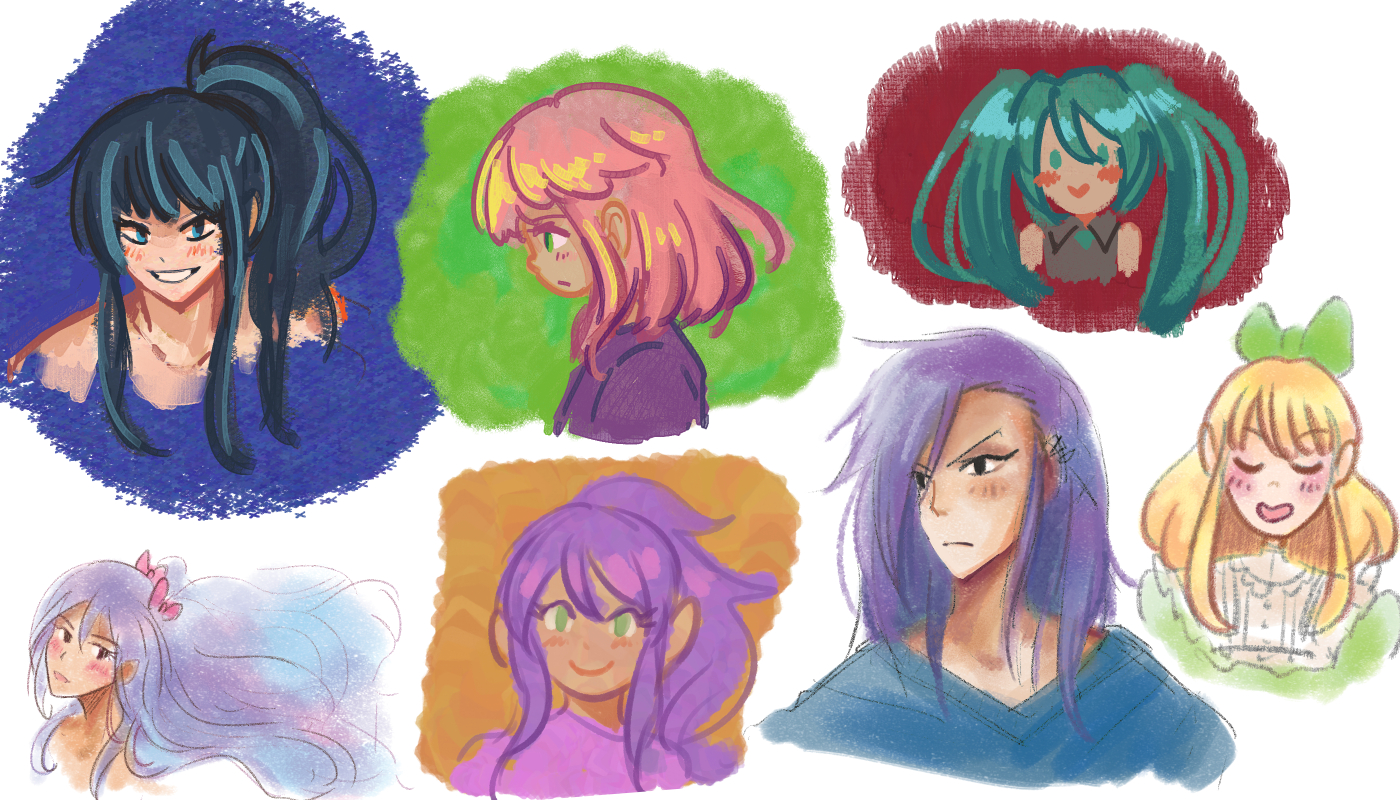 And then finally today, I dusted off my actual marker set and.... just tried to do something LOL. These were using the Copic Manga Illustration 24 set, which is very pastel-leaning. I don't know what I'm doing yet haha.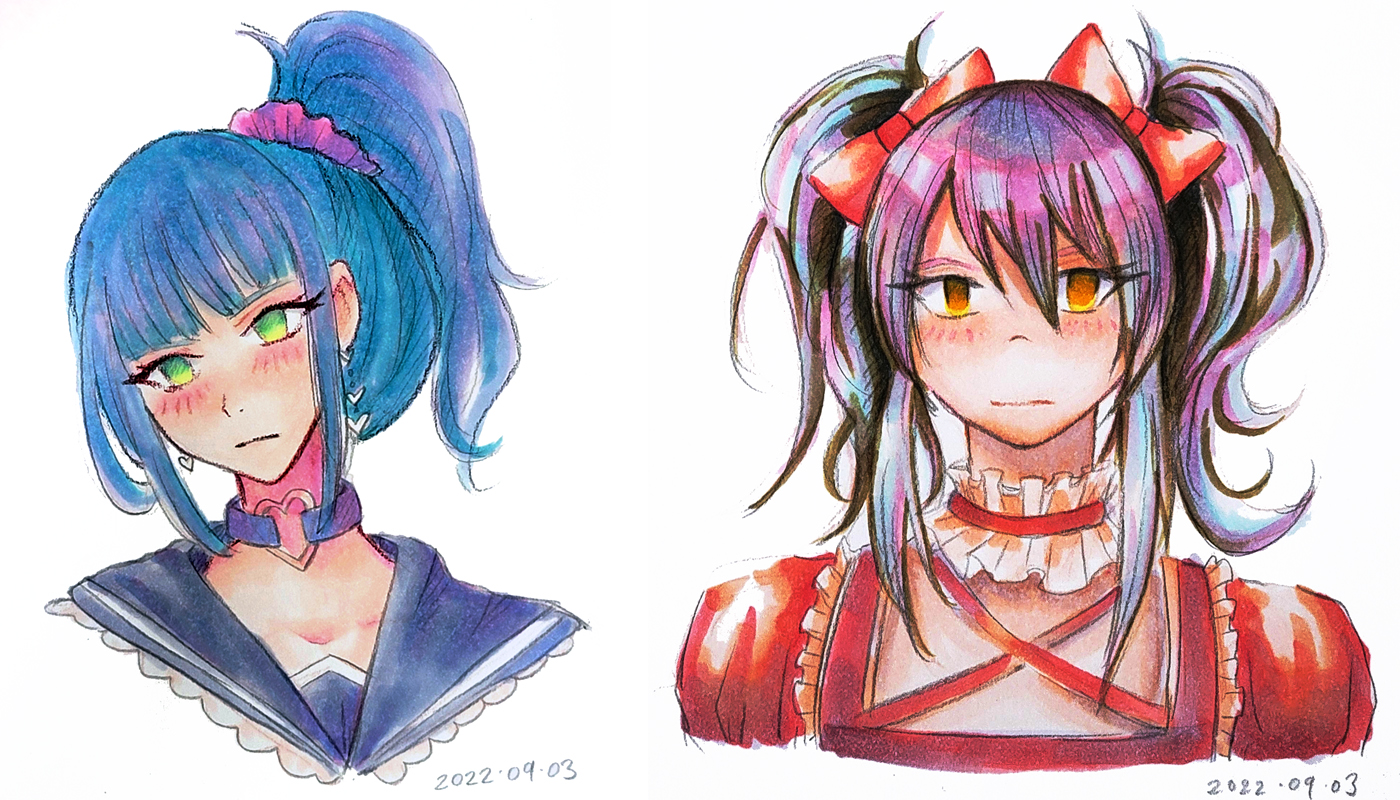 current mood: pensive
current music: Collar x Malice OST
---

[2022.08.28] Mail Goodies and Attempts to Empty my Brain Into a Sketchbook

Inspo for this week: Yu-Gi-Oh! art prints from judgearts! I love their style and these doodle pages so much! They were available as stickers, but I just love how jam packed they look together. Mokuba is such a fav, and the Kaiba brothers mini print was a lovely bonus. I got these as a set with the intention of using them in an existing photo frame trio I had… but they are just a tad too small :( Oh well.
I also have an old photo from some stickers I got earlier this year. Sasazuka (I have to shoehorn him into every post somehow) was gifted by my S/O, and the Rei and Tanjiro are from Creators Guild. Bonus Missus Ruin Paprika sticker on my work notebook. I gifted Rei to a friend, and the others I haven't found a home for yet.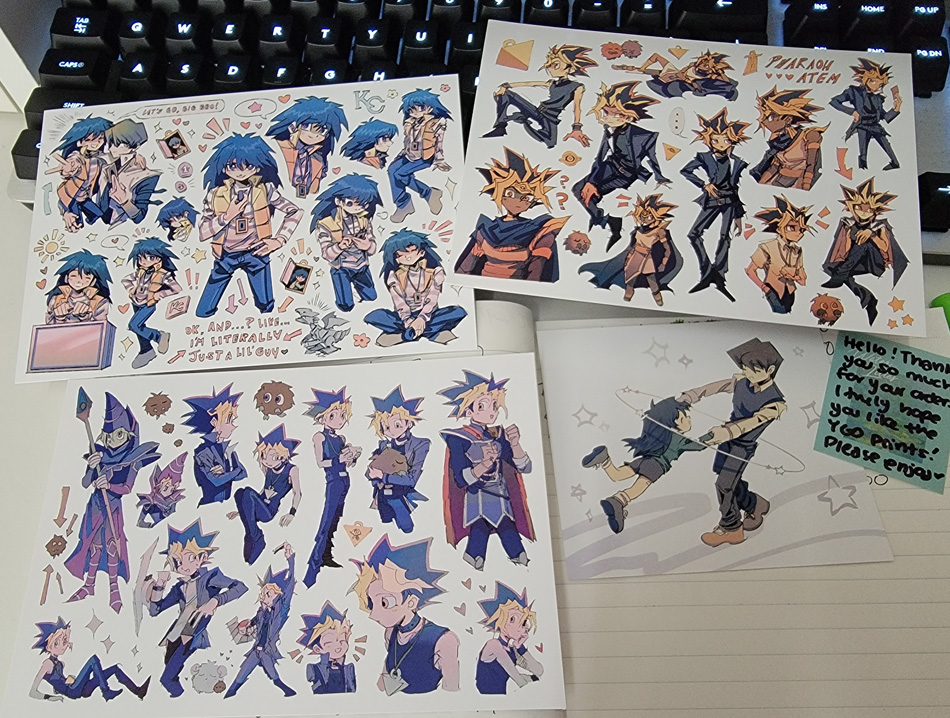 Above: Prints by judgearts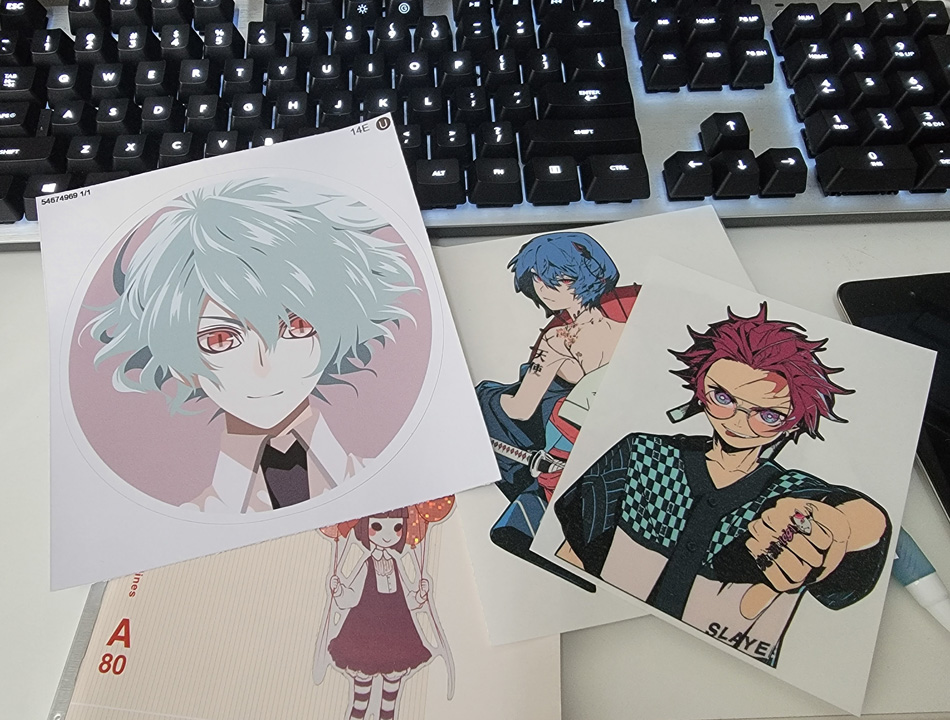 Above: Stickers by Cae Grey, Creators Guild, and Missus Ruin.
I'm trying to find ways of overcoming my "sketching on a blank canvas" anxiety. This past week, I tried switching things up and testing brushes on procreate. If I skip gesture warmups or I'm not working from a pose ref, I always end up drawing the same basic flat anime portrait character sketch, deleting it, then repeating that ad nauseum. So maybe I just need to get those out of my system, and let them exist somewhere without overthinking things.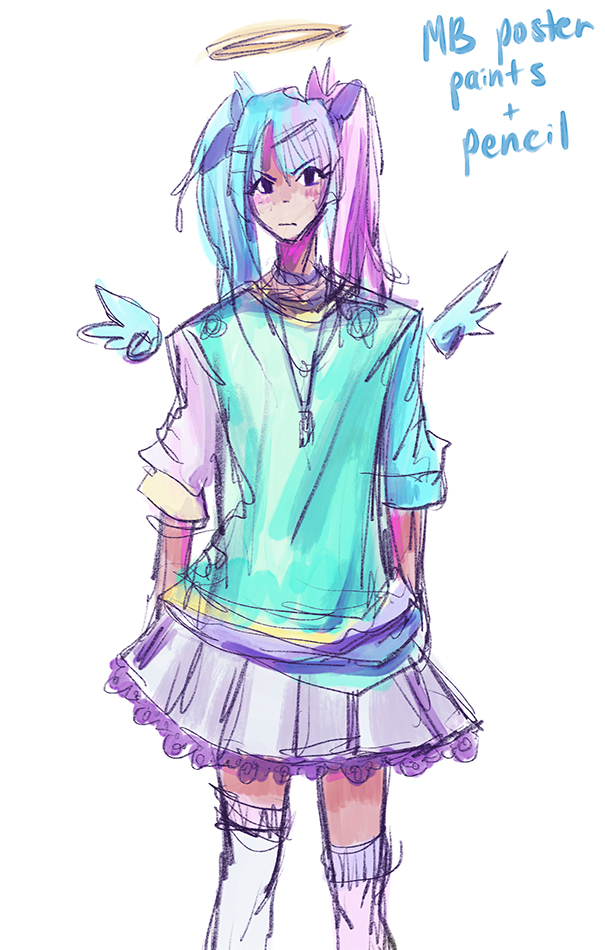 Above: "Let bad sketches be bad sketches."
My brain felt too tired to do any other characters, so I tried some purely abstract pieces after that. I just picked a brush that seemed nice and just went with lines that felt natural. (Basically, just dragging my pen across, because I was also exhausted after work.) You can tell the canvas bias for the portrait pieces compared with the landscape ones. I think I struggle with the ipad surface a lot. My posture suffers terribly whenever I try to draw on a screen tablet for extended periods of time, which is why I prefer non-screen drawing tablets haha.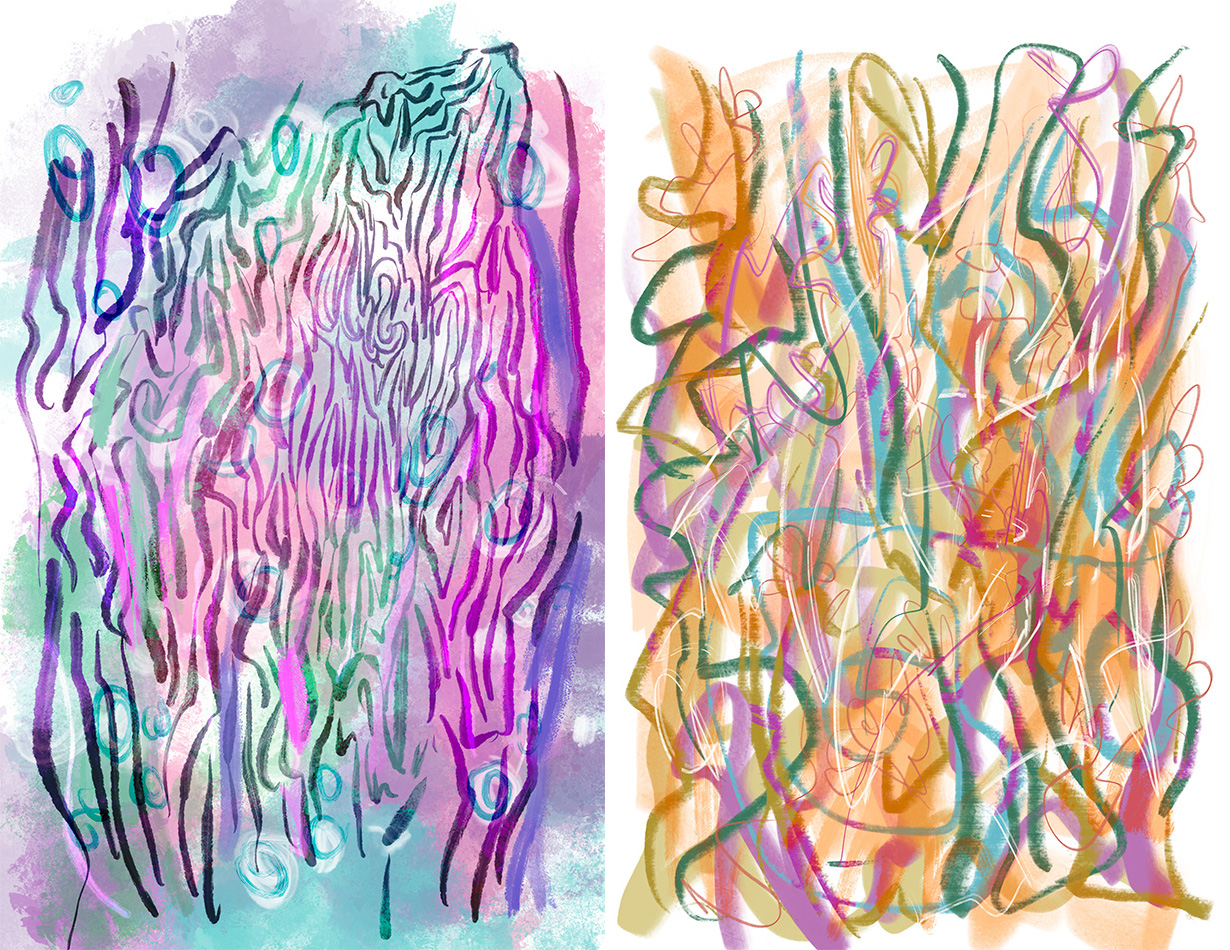 Left: Soap Bubbles in my Soda; Right: Fake Harvest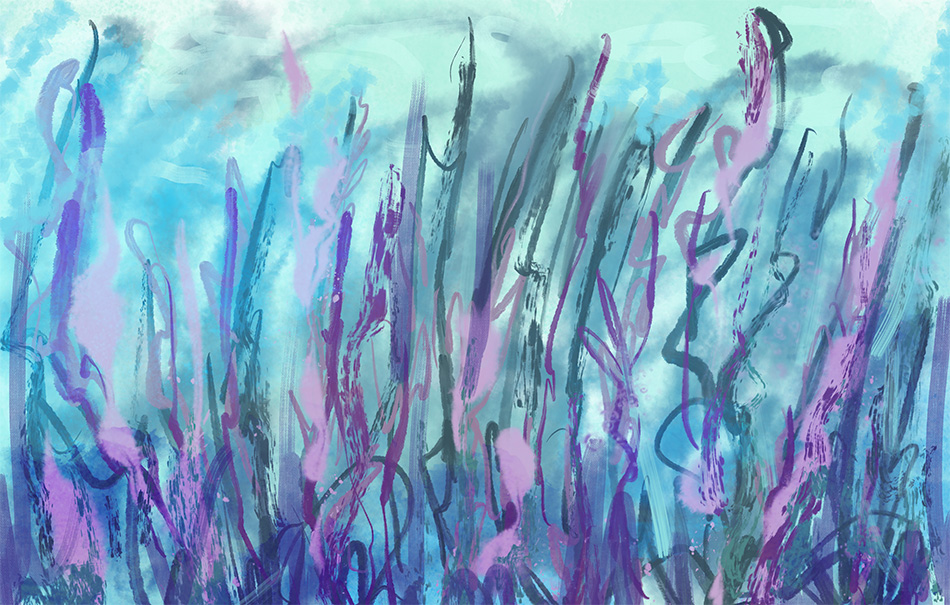 Above: Underwater Cabbage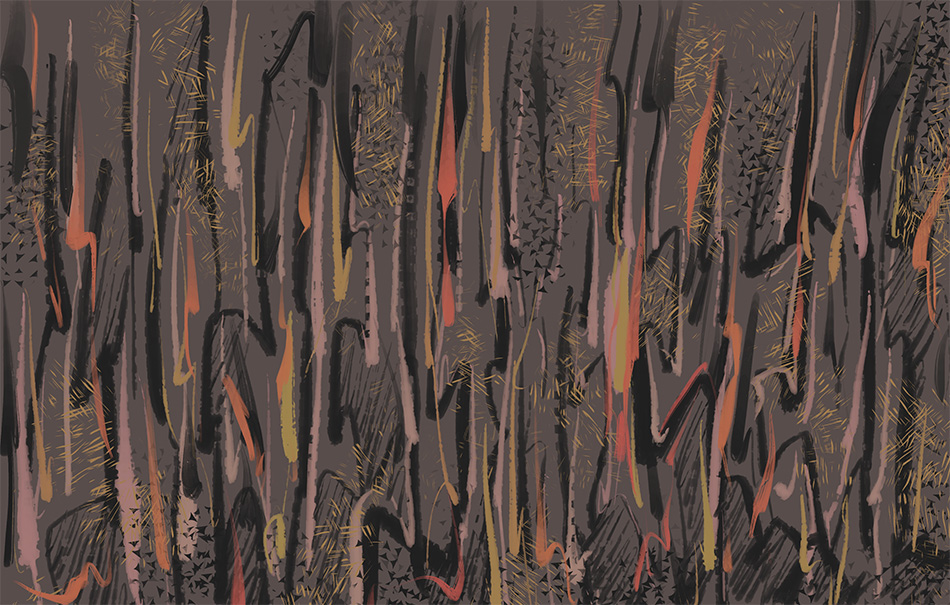 Above: Toasty Whole Grains
Brush Resources

---

[2022.08.23] An Intro, Some Inspo, and Testing Brush Packs

Welcome to the first entry of this blog! I intend to use this place as a sketch blog, photo log, and general miscellaneous dumping grounds.
I've been meaning to put together a blog for the longest time. There was a period of maybe 6 years where I spent a ridiculous amount of time on LiveJournal, mostly lurking, but also writing HUNDREDS of entries. I did the same to a lesser extent on the Gaia Online journals, but yeah. I used to write (for myself) very regularly before abruptly stopping. I hope to get back into this kind of journaling. I think it's done wonders for my mental health in the past to write things in a longer form.
Anyway, to start things off, my latest art inspo has been these two sketchbook compilations by MERUZ on tumblr: Sketchbook #1 (2020) and Sketchbook #2 (2021). I'm sharing a preview page because it's so cool!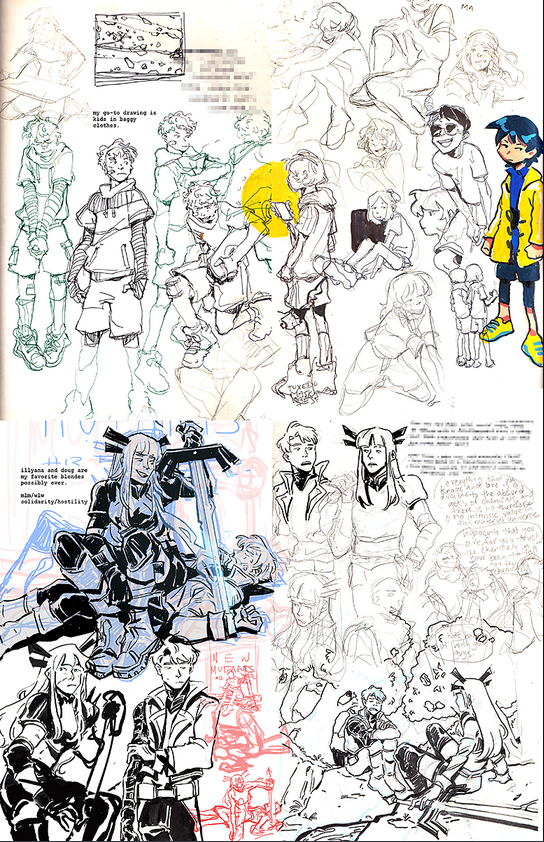 Above: Sample sketchbook pages from Sketchbook #1 by MERUZ.
My brain doesn't do physical sketchbooks or much traditional art in general, so I'm just screaming in awe. There is so much life and energy in these, and I'd love to be able to incorporate these looser style sketches and explorations in my process. I think being too much of a perfectionist has hindered my creative growth, and I want to overcome that! I'm trying to do warm-up figure drawing gestures before sitting down to work on big illustrations. I think in my next entry I will post some of those.
For now, I have some sketch pages where I'm testing out new brush packs for Clip Studio. Links to these will be at the end of the post. I was getting by with just a handful of default tools during Art Fight, but I was struggling more than what I would have liked. IMO, finding a set of brushes that you vibe with that feel very intuitive to your tablet/pen setup is super important to adjusting to a new drawing program or digital art in general.
First set is just empty brain doodling of my blorbos and a quick study from a clothing website.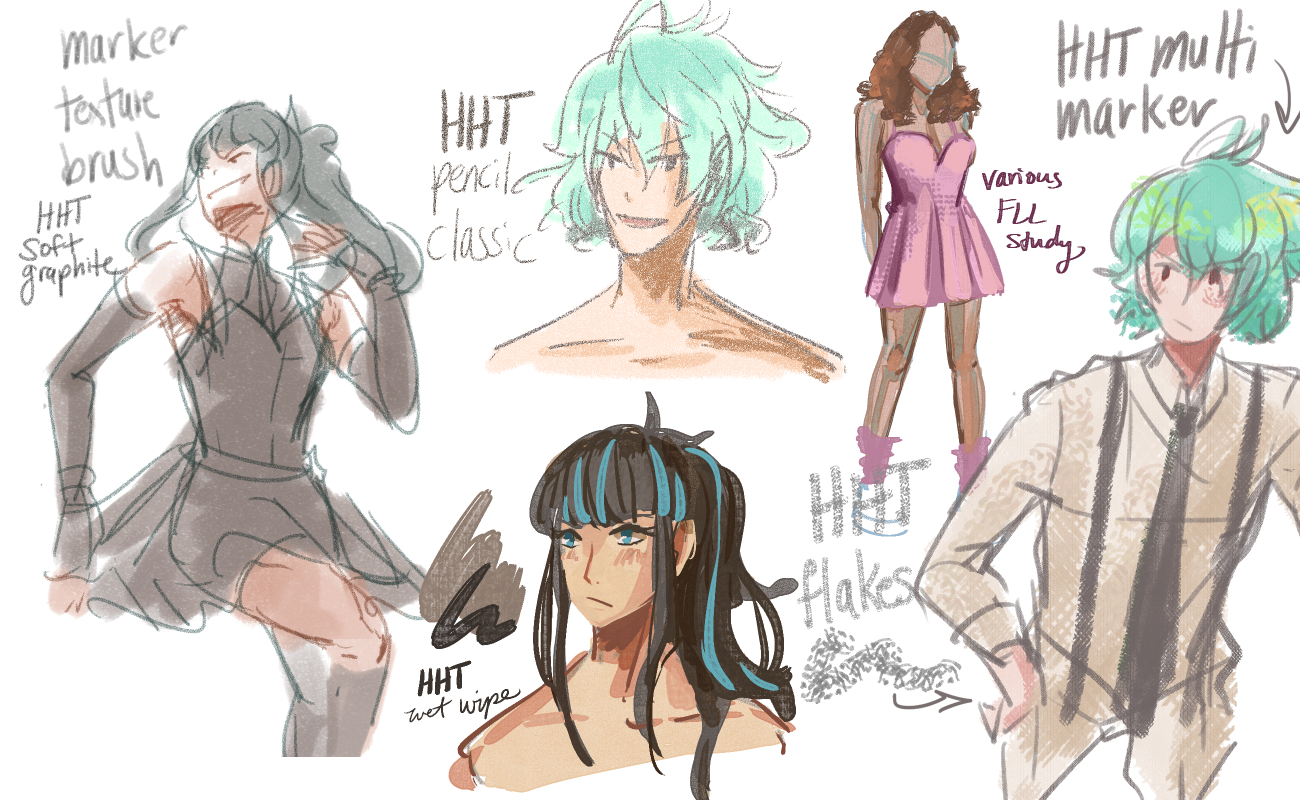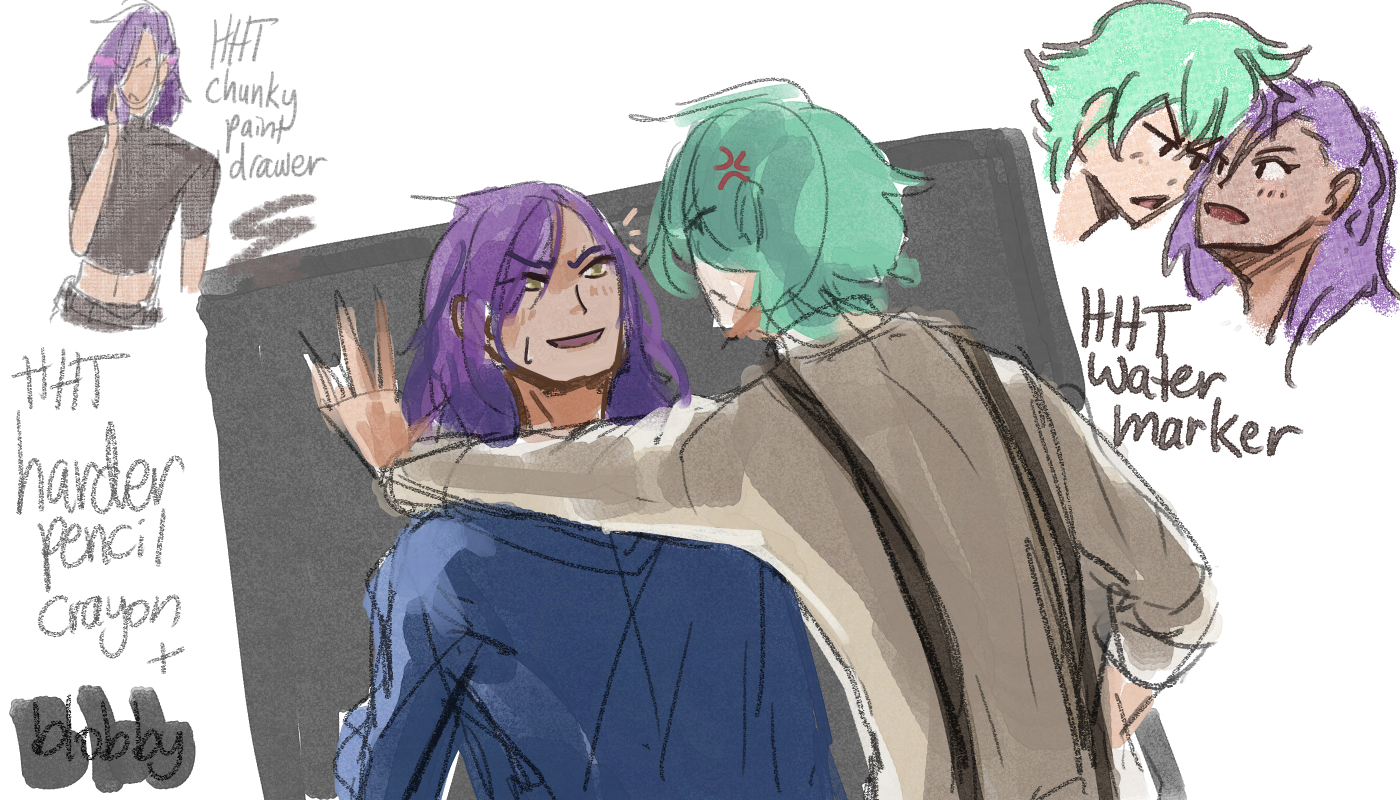 This second set, I'm redesigning some super old characters I threw together for a JRPG style thing sometime around 2005. I have a lot more characters I want to revisit!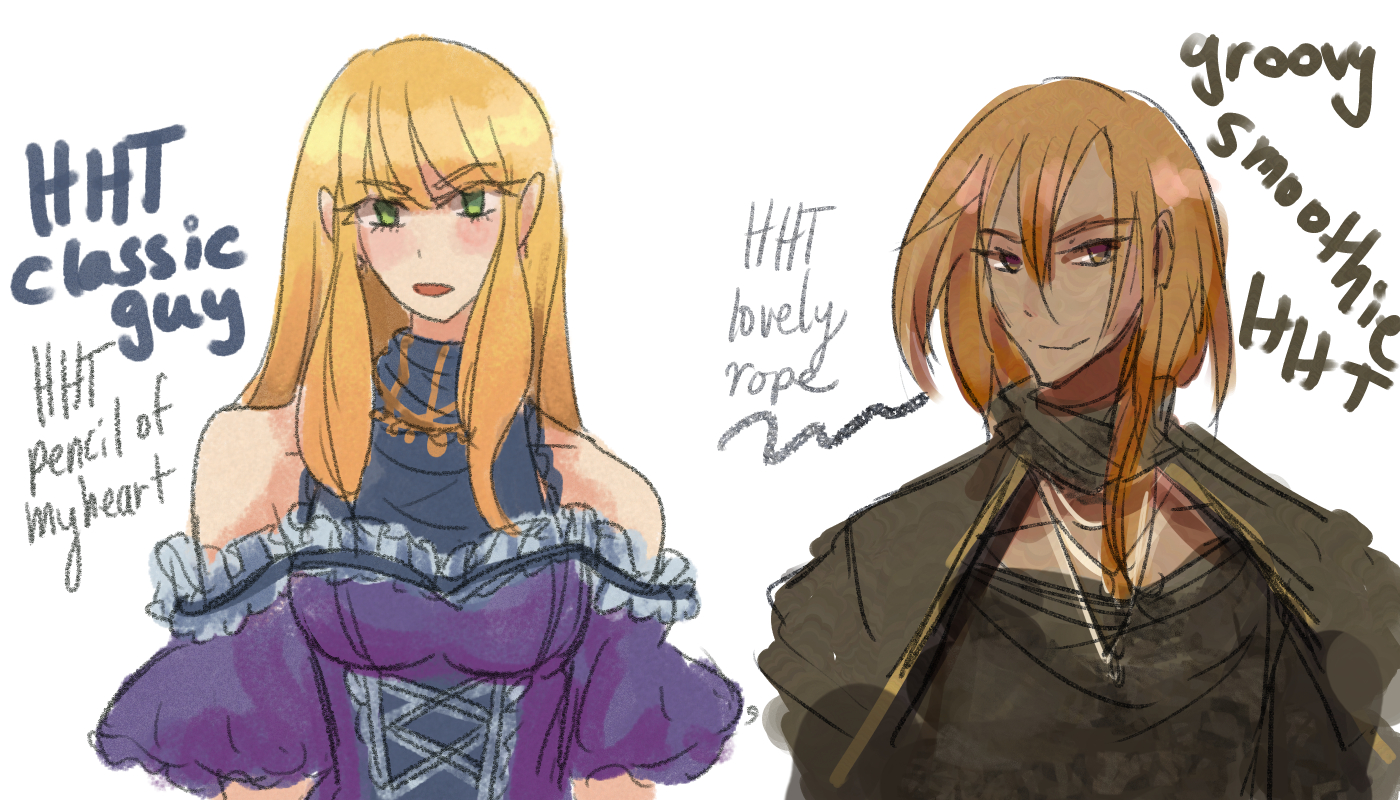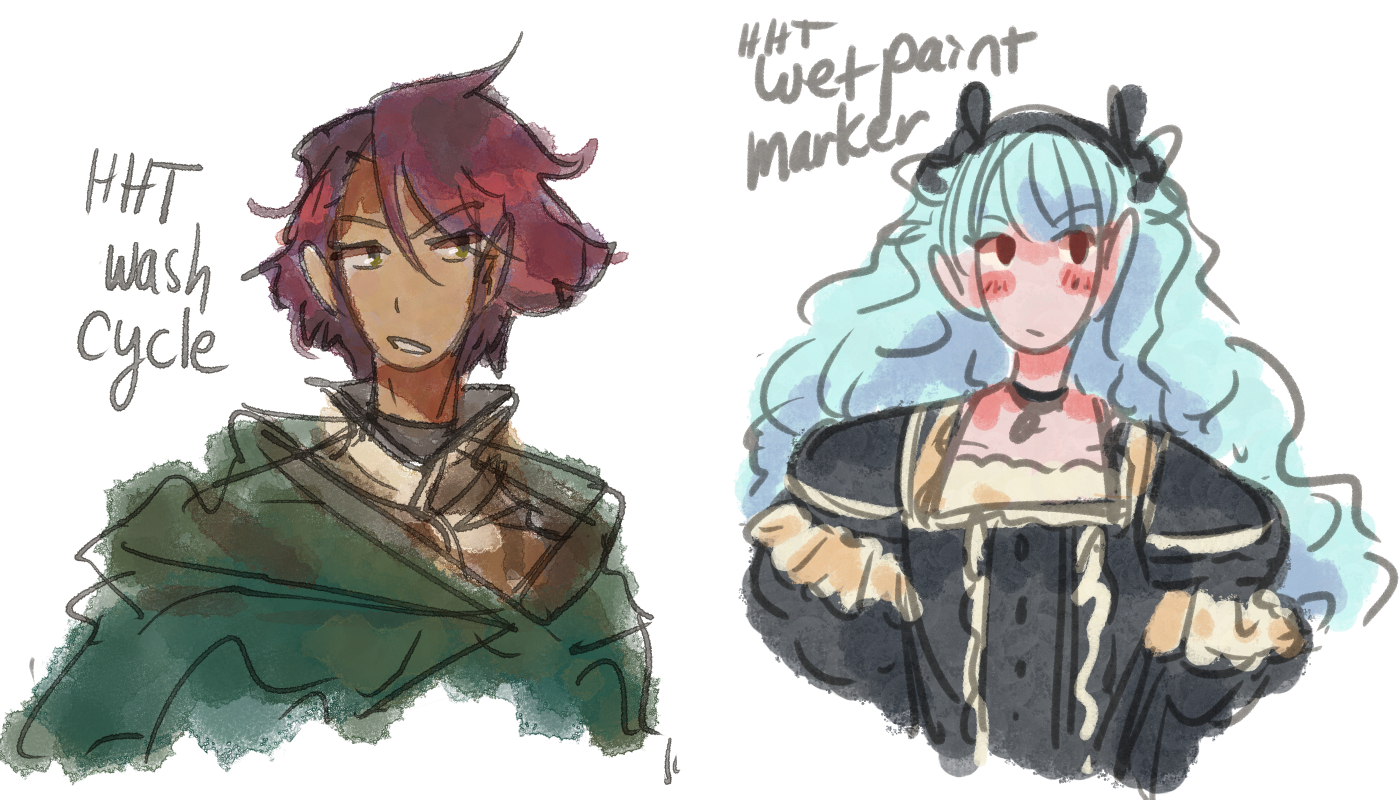 Brush Resources

Marker Texture Brush (free) - Clip Studio Assets
ROBOGART's CSP Brush Packs (paid, different sets available) - itch.io

P1.1: HHT Pencil Classic, Wash Cycle, Wet Paint Marker
P2: HHT Water Marker, Classic Guy, Pencil of my Heart, Lovely Rope, Groovy Smoothie
P3: HHT Soft Graphite, Wet Wipe
P4: HHT Harder Pencil Crayon, Blobby
P5: HHT Multi Marker, Flakes, Chunky Paint Drawer
current mood: restless
current music: Fruit Town album by standards
---