Rougelian Shop Staff Notes / Baka Neko Sketch Blog
[2023.02.20] Doodles and doodles

Hullo hullo. I have more anime vampire photo dumping and some actual art for this sketch blog this time. To no one's surprise, I went and got the remaining two installments of the Visual Prison blu-rays.
Volume 4 probably has the least interesting bonus booklet. All the character design sheets are completed by vol 3, and so it just has some keyframe/layout pencils for selected character shots - nothing too special. (The character sketches and setting booklet included in vol 1 is definitely the best for full outfit turnarounds and expression sheets.)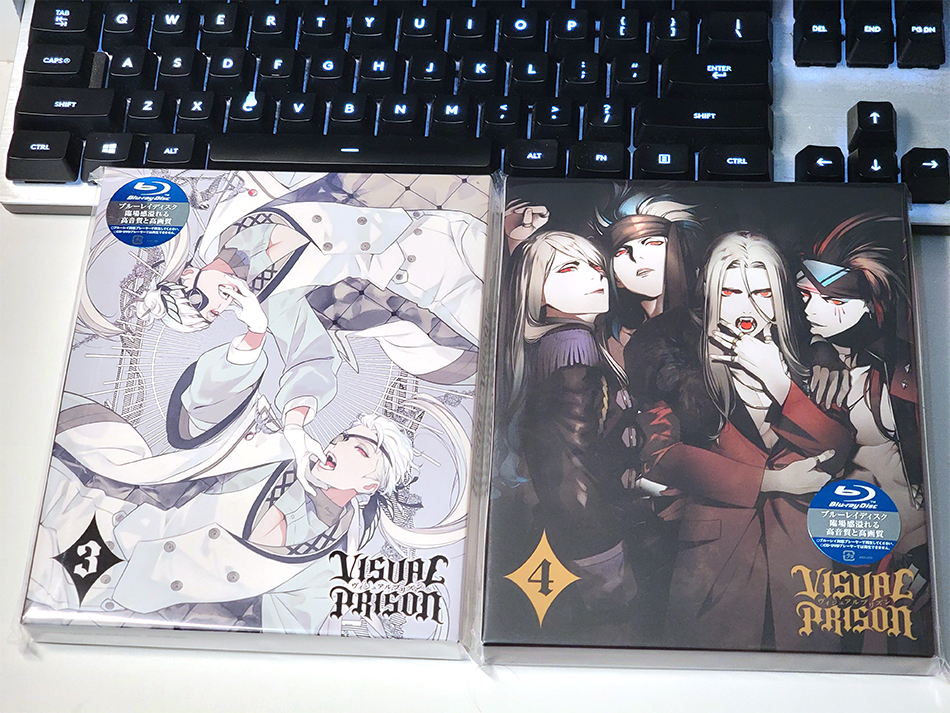 Above: Visual Prison 3 & 4.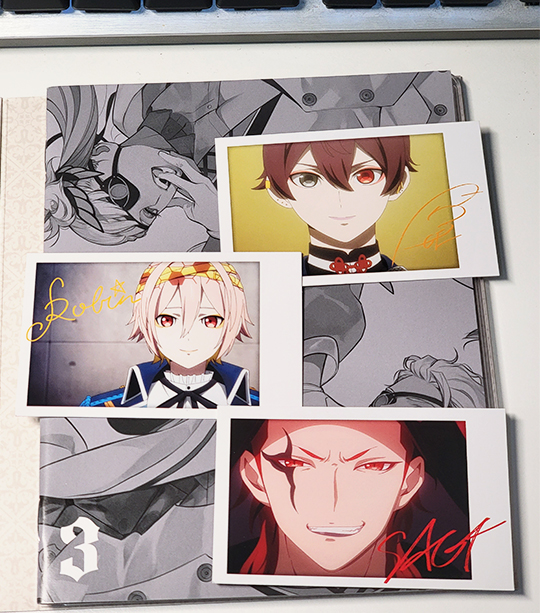 Above: Ange, Robin, and Saga polaroid-style cards from volume 3.
The wing design for Ange's sig is cute, but what the heck is going on with those letters???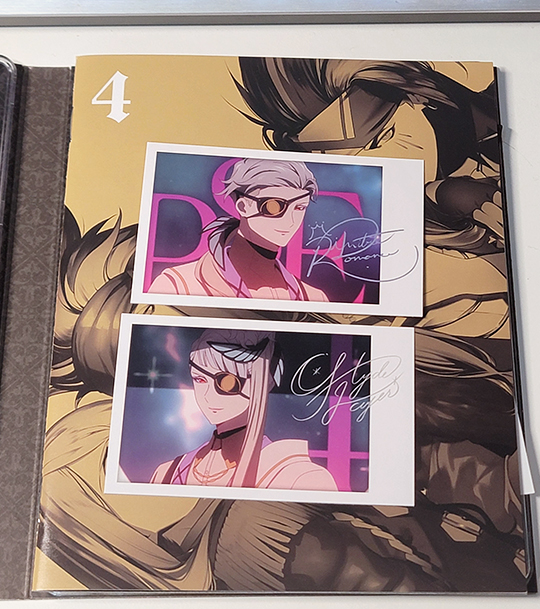 Above: Dimitri and Hyde polaroid-style cards from volume 4.
Look at those blues and purples. <3
Speaking of blues/purples - here are my DIY nails from the past week. Vague dark sparkly glitter until SURPRISE - mismatched colors when they catch the light. Colors are "You Fool. No Man Can Kill Me" (purple/blue), "You are a Warlock Magnet" (gold/green duochrome?), and "The Duke" (purple-ish wine).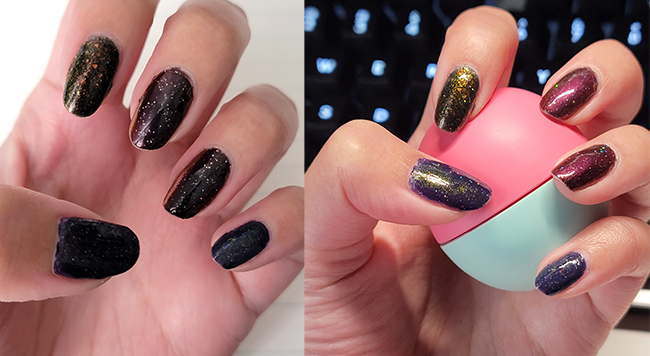 Here are some sketch studies(??) of just trying to remember how to draw again. I'm testing Procreate brushes from Dani Diez's Toolbox. So far, it has nice a brush/pressure feel, but I'm horribly out of practice. I'm just making Beth wear my outfits dkslfj.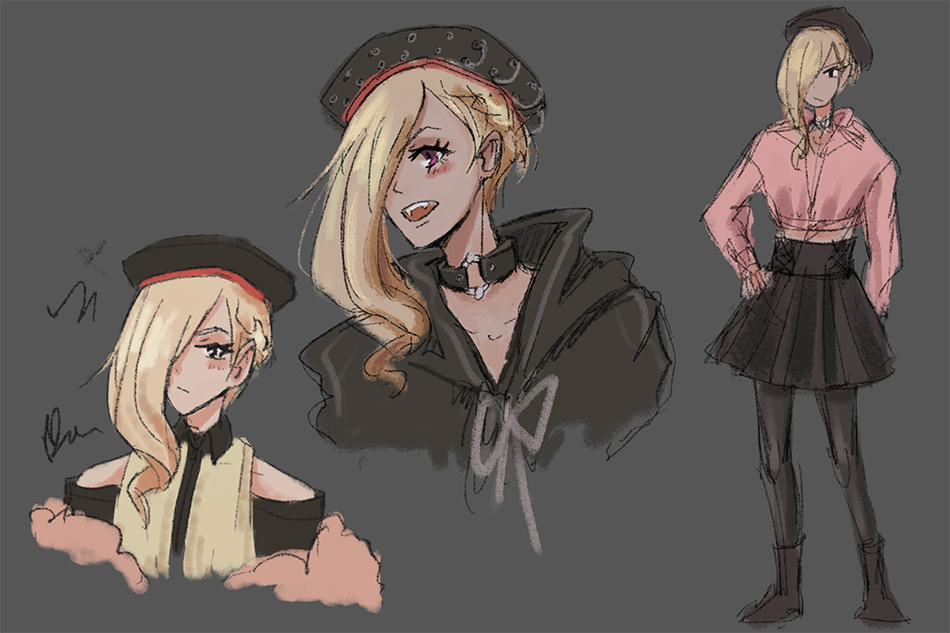 For Colors this month, one of the games includes adding a surprising/shocking element for trade offers/replies. I decided to do bespoke doodles of the characters I have as my DW icons for mine. The old tumblr doodle ask/rp blog blood still runs in my veins 10+ years later.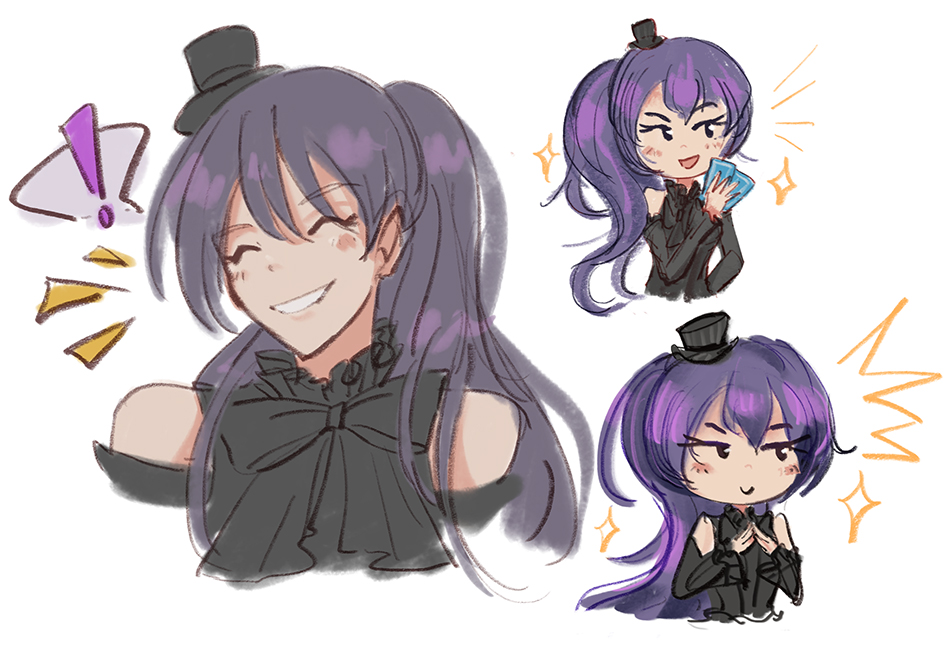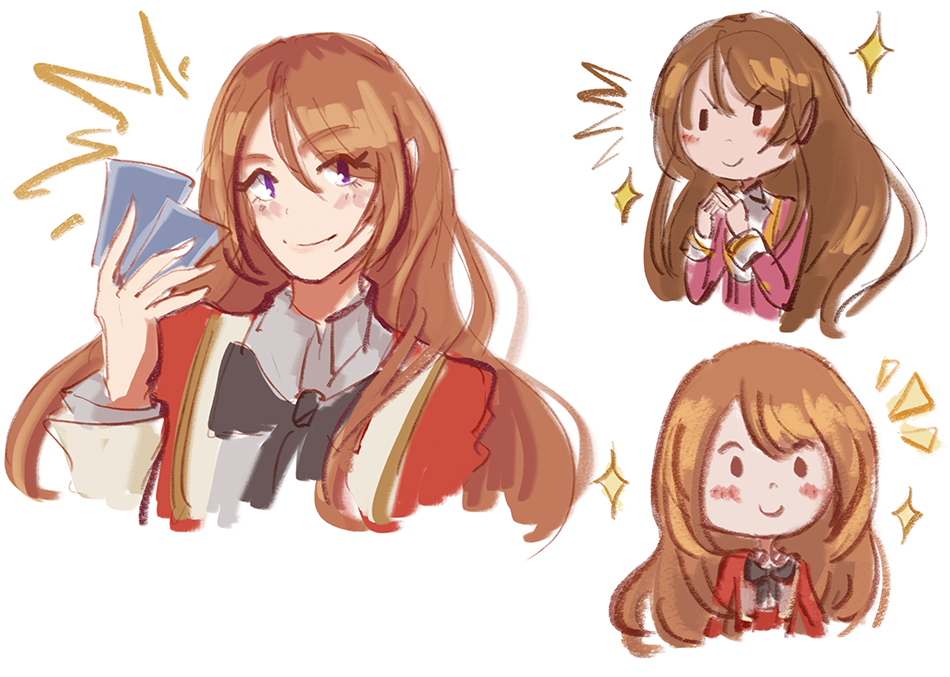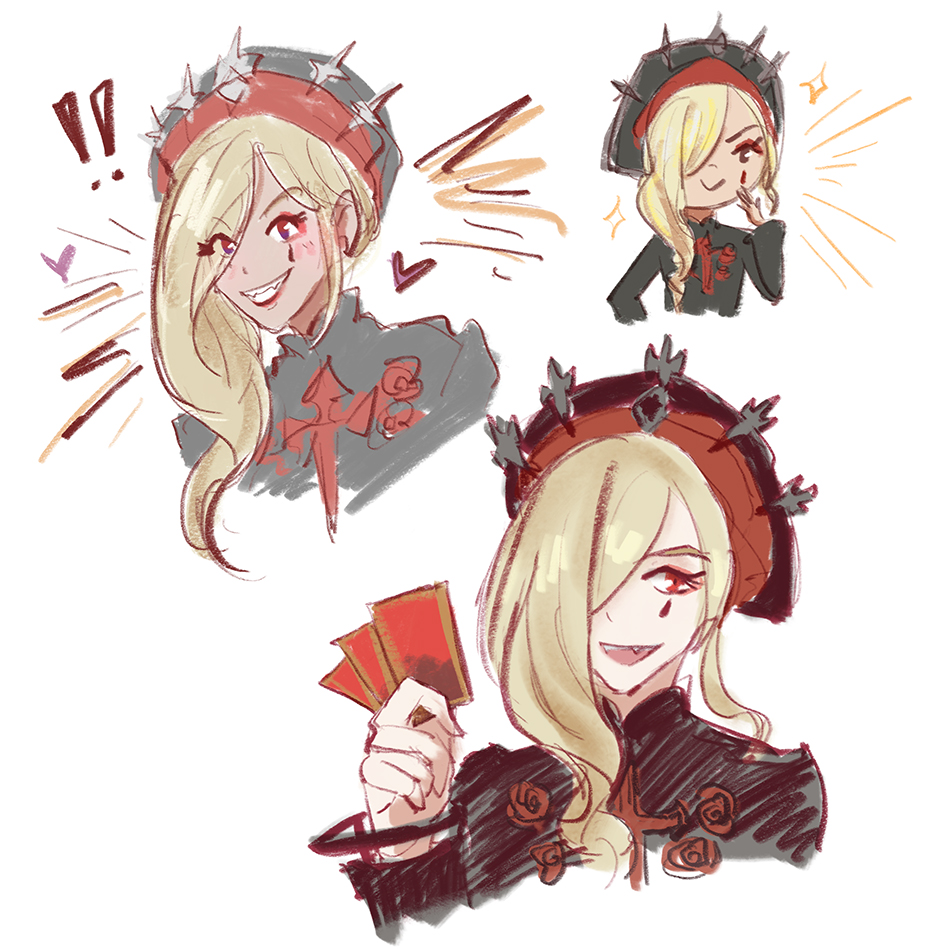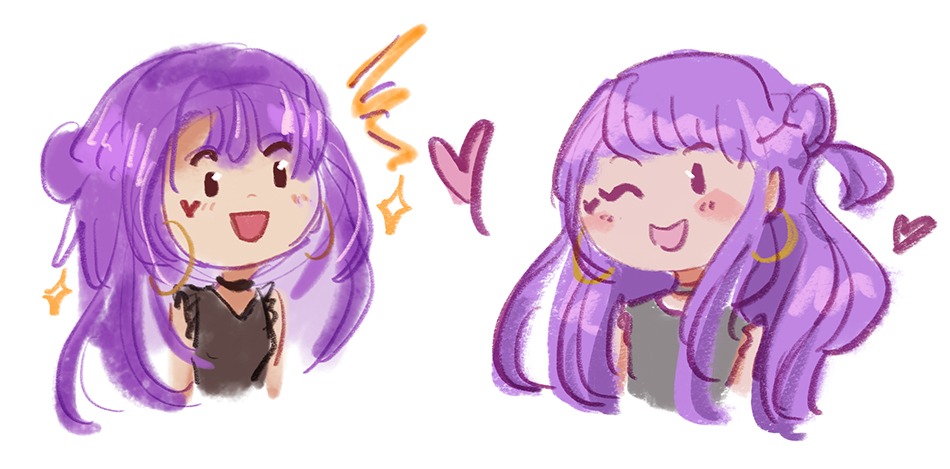 current mood: okay
current music: Kingdom of the Sun album by Rie aka Suzaku
---

---
[2023.02.08] Joke's on me - I'm stuck in the visual prison

Dusting off this blog and giving it a brand new pink layout dedicated to my newest blorbo - Beth from Visual Prison. I might adjust the colors, but we'll see. I archived my old entries from last year with the original Sasasasasaazuka color scheme because it seemed fun.
Anyway - I want to get back into updating my neocities site beyond being in TCG hell and once-a-month outfit dumps. I haven't really drawn since my last entry in October, but I think I'm starting to find some motivation again. I still have a list of things I want to add to my site, so I'm hoping to chip away at that throughout the year.
For recent inspo, please appreciate the gorgeous artwork of the Visual Prison blu-rays because I am an absolute sucker for limited edition bonuses.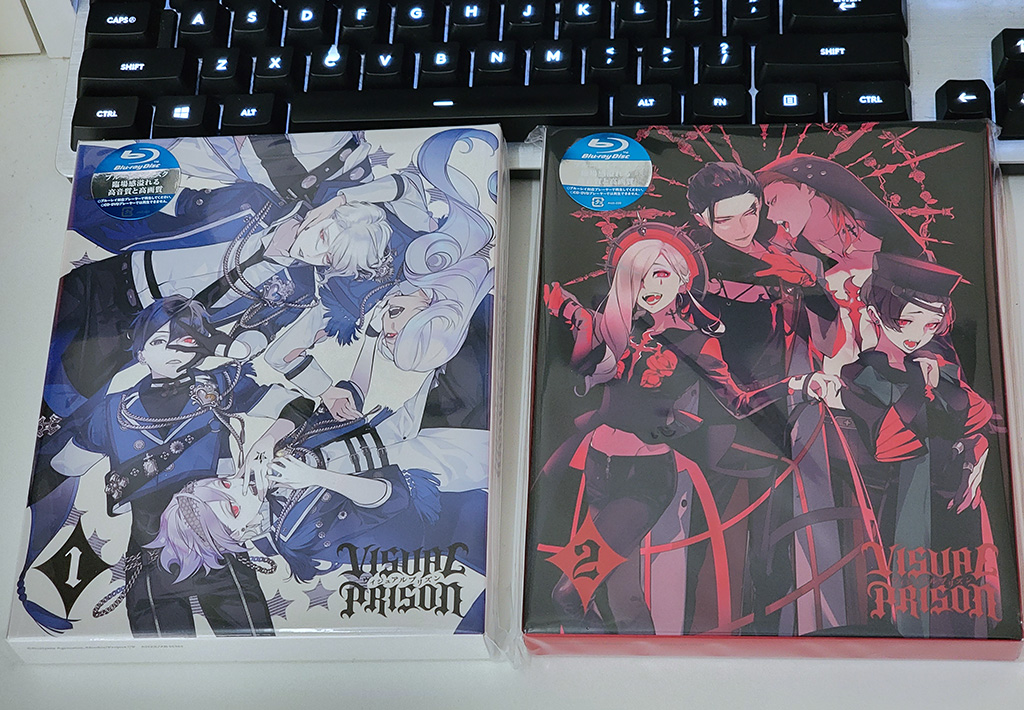 Above: Visual Prison 1 & 2.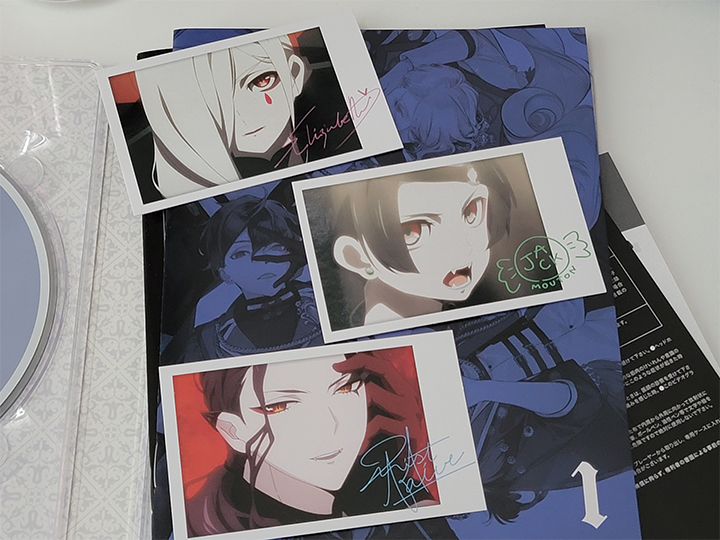 Above: Beth, Jack, and Mist polaroid-style cards from volume 1.
This set also included a full character design booklet with everyone's Visual Prison and causal outfits with turnarounds hehehe.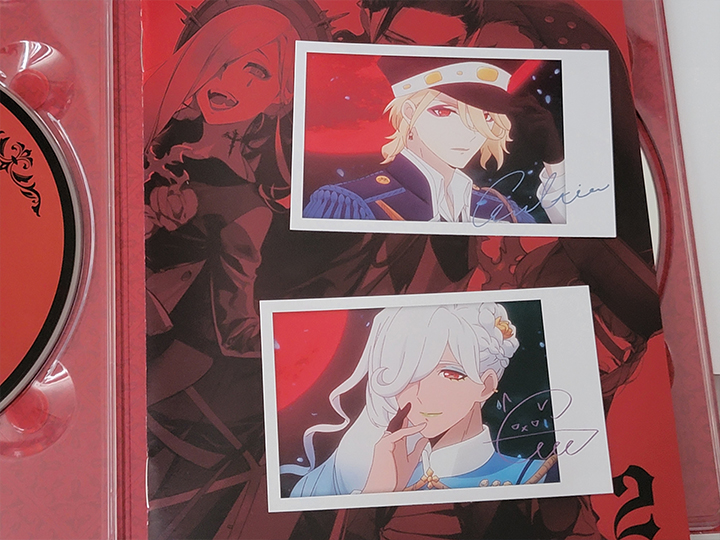 Above: Guil and Eve polaroid-style cards from volume 2.
I was on a big EGL outfit streak at the end of last year after rewatching Kamikaze Girls, but I'm back on my casual vaguely j-fashion streetwear bullshit now. The recent outfits I owe to the backlog are ridiculously Beth inspired because my wardrobe is like…halfway there already. I'm just short a beret collection, a Raspberry Mazohyst choker, and one of those starry halo headpieces. (My wallet is in danger.) But yes - I'm here to embrace my vk anime vampire phase.
Some DIY OZ inspired nails. Because I love weeb inspired nail designs and characters named Ange. The black with red glitter blood accent nail is my fav. I couldn't replicate it as cleanly for the other hand.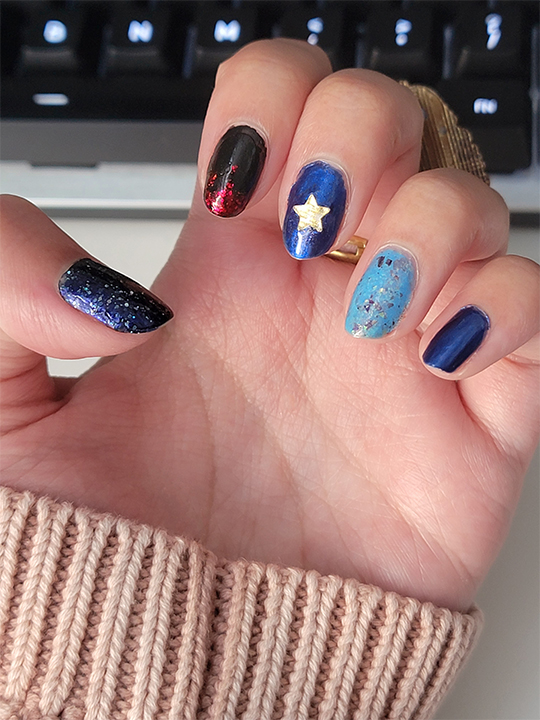 And I finally got my hair done! Next time I'm going to go brighter blonde with the underlayer. ;m;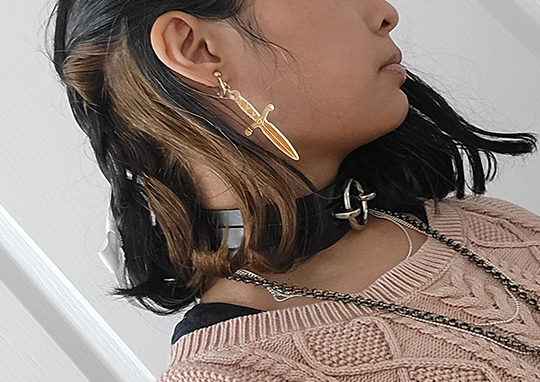 My brain is tired from the work day and messing with this layout, so that's it for now.
current mood: exhausted
current music: AI=ZO from Visual Prison Artist Songs CD vol. 1
---