About the Webmaster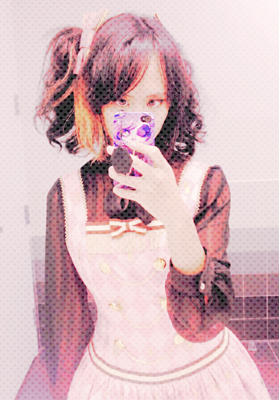 Webmaster-ing
Heyyyy. I've been on the internet for nearly two whole decades now and dabbling in HTML for just as long. It started with Neopets in 2003 and snowballed from there. Social media and algorithm bs in the past few years have left me Weary and Tired, so I've abandoned pretty much everything except tumblr. Discovering neocities hit me like a sack of wet mice, in the best way possible. I'm here to dust off my nostalgia for old 2000s websites, pixel art, shrines, and rambling.
J-fashion-ing
My love for lolita fashion goes all the way back to 2006 and the days of LJ. It would be many, many years before I had any burando, and I DIY'd a handful of pieces before jumping ship to cosplay for awhile. I rediscovered the fashion in 2014 with Alice and the Pirates' Guilty Meltin' Sweets Town print and became obsessed all over again.
I am a Filthy Casual (loltia) when it comes to coordinates. My general style is influenced by the casual and fun mix-and-match style of 2008-2012 KERA magazines, and I have a soft spot in my heart for 2009-ish era visual kei (Megamasso and ViViD). Maybe one day I'll attend an actual meetup or convention j-fashion event, but for now I live a SOLOlita lifestyle and annoy my normie-dressing pals with obnoxious outfits.
---
Favs
All-time Favs
Visual Prison
Promare
Hunter x Hunter
Yu Yu Hakusho
Tales of the Abyss
Collar x Malice
The World Ends with You
Virgo Versus the Zodiac
Hobbies
Food adventures & cooking
Afternoon tea
Cosplay DIY & closet cosplays
Bullet journaling
Tea Order
Boba: Osmanthus or honey oolong, non-dairy creamer, 25-10% sweet, less ice, with honey boba
Black tea: Rose Royal (Lupicia), Black Currant (Harney & Sons), Cream of Earl Grey (DAVIDsTEA)
Green tea: Sweet Almond Green (DAVIDsTea)
Rooibos: Mahina (Lupicia)
Oolong: Melon Oolong (Lupicia)
---
Quiz Results
you are darkolivegreen
#556B2F

Your dominant hues are green and yellow. There's no doubt about the fact that you think with your head, but you don't want to be seen as boring and want people to know about your adventurous streak now and again.

Your saturation level is medium - You're not the most decisive go-getter, but you can get a job done when it's required of you. You probably don't think the world can change for you and don't want to spend too much effort trying to force it.

Your outlook on life is slightly darker than most people's. You try to see things for what they are and face situations honestly. You'd rather get to the point than look for what's good.

the spacefem.com html color quiz